Niche keywords can help you attract more qualified traffic to your site. 
In this article, we'll show you tactics for doing niche keyword research. And share top tools for building out your list of niche keywords.
But first, let's cover the basics.
What Are Niche Keywords?
Niche keywords are long-tail keywords (highly specific search terms) that focus on a particular area or industry and appeal to a very narrow audience. 
They're very different from competitive keywords.
Competitive keywords are broad, frequently searched terms that are often difficult to rank for. Especially for a new business competing in a market where known brands with high Authority Scores (a measure of a domain's overall quality and reputability) dominate.
Niche keywords are your chance to level the playing field. They appeal to a precise audience's specific needs, so niche terms typically have little competition and high relevance. 
For example:
Competitive keyword: "Sports shoes"
Niche keyword: "Carbon plate running shoe for heel striker"
Niche keywords attract the exact audience you want to target without you having to battle against as many companies for attention.
The result?
Improved search visibility, highly targeted traffic to your website, and better conversion rates. 
5 Steps for Starting Niche Keyword Research
Here are five tactics to uncover the best niche keywords for your website and marketing campaigns.
1. Determine Your Target Audience
To choose a niche keyword, you need to get to know your target audience. That starts with demographic information.
Google Analytics 4 can give you detailed insights into who visits your website.
Its Demographic details report is pre-made, providing information on people who use a website or app. 
To find the report, visit Google Analytics. Click "Reports" > "User Attributes" > "Demographic details."
This report gives you key demographic information you can use to inform your next steps. This includes their language, interests, location, age, and gender.
For example, if your target audience is females under 25, spending time on Facebook won't be the best use of your budget. But TikTok probably will.
The more defined your target audience, the easier it is to find prospects who are happy to pay for your products or services.
2. Research The Market
Market research is when you gather and analyze information about your target audience. This helps you discover what your customers want, what's happening in their world right now, and how you can tap into that.
Consider things like:
What interests them?
What questions might they have before they purchase something?
What's trending in their industry right now? (for B2B customers)
You can then use this information to identify business opportunities and attract more loyal customers. It can even help you gauge whether a product will be a success.
To do this, read industry publications, listen to podcasts, and watch webinars aimed at your target audience.
For example, if you work for an HR tech company, you might read HRMorning.
You may then read HR.com and HR Bartender.
Look for:
Topics that multiple publications cover
Topics a publication covers several times from different angles over recent weeks/months
A trending topic in HR in 2023 is AI, for example.
What are the big publications in your industry?
Make a list of them, sign up for their mailing lists, and read them regularly to keep informed about industry trends.
Also, look for subject matter experts (SMEs) published on these sites, or quoted in articles.
Find them on LinkedIn (many will have links in their bios), and see what they publish there, too. The content published on LinkedIn can still have a business angle, while sometimes being more personal.
The more you study the people and publications in your industry, the more you'll see recurring patterns that give you an idea of trending topics you could cover in your own content—with your own spin, of course.
The more often you see someone talk about something, the hotter the topic.
3. Evaluate Your Competitors
Which companies sell products or services similar to yours, and to a similar target audience? What about companies of a similar size? These are your direct competitors and the ones you want to evaluate.
If they're in the same industry but aimed at different people, you won't get as much out of conducting a competitor analysis on them.
For example, Writing Magazine and New Scientist are both magazines, but one focuses on writing and the other focuses on the latest science news. There may be an overlap in their readership, but they're not direct competitors.
Once you've compiled a list of your competitors, use tools like Keyword Gap to spot gaps in their content strategy that can inspire your content creation.
4. Browse Online Communities
Online communities such as Reddit, Quora, or Facebook groups can be goldmines for getting initial ideas for niche keywords. 
Why? 
Because this is where people go to get answers to questions on highly specific topics. Maybe even after a Google search has returned no suitable results. 
Take this question from Reddit: 

People are engaging with the question, so there's interest in it. It could be a good seed keyword to investigate. 
5. Compile Preliminary Keywords and Research Them
Now that you've done all that initial research, it's time to compile it.
Copy your keyword ideas into a list.
If you find some ideas aren't as strong as you thought, save them in another document—they might inspire something another time.
Then, when you're happy with your list, start keyword research using the tools below.
Keyword research tools help you make quick work of finding niche keywords. 
Here are seven top options to help build your keyword list.
1. Keyword Magic Tool
Keyword Magic Tool is a powerful keyword research tool that draws from a database of more than 25 billion keywords to help you discover new optimization opportunities.
And it can generate thousands of niche keywords in seconds. 
Open the tool, and enter a seed keyword. This is any term related to your market, products, or services. This should be a keyword you identified when doing your preliminary research.
For example, if you sell VOIP software, "VOIP," and "voice over Internet Protocol" are relevant seed keywords.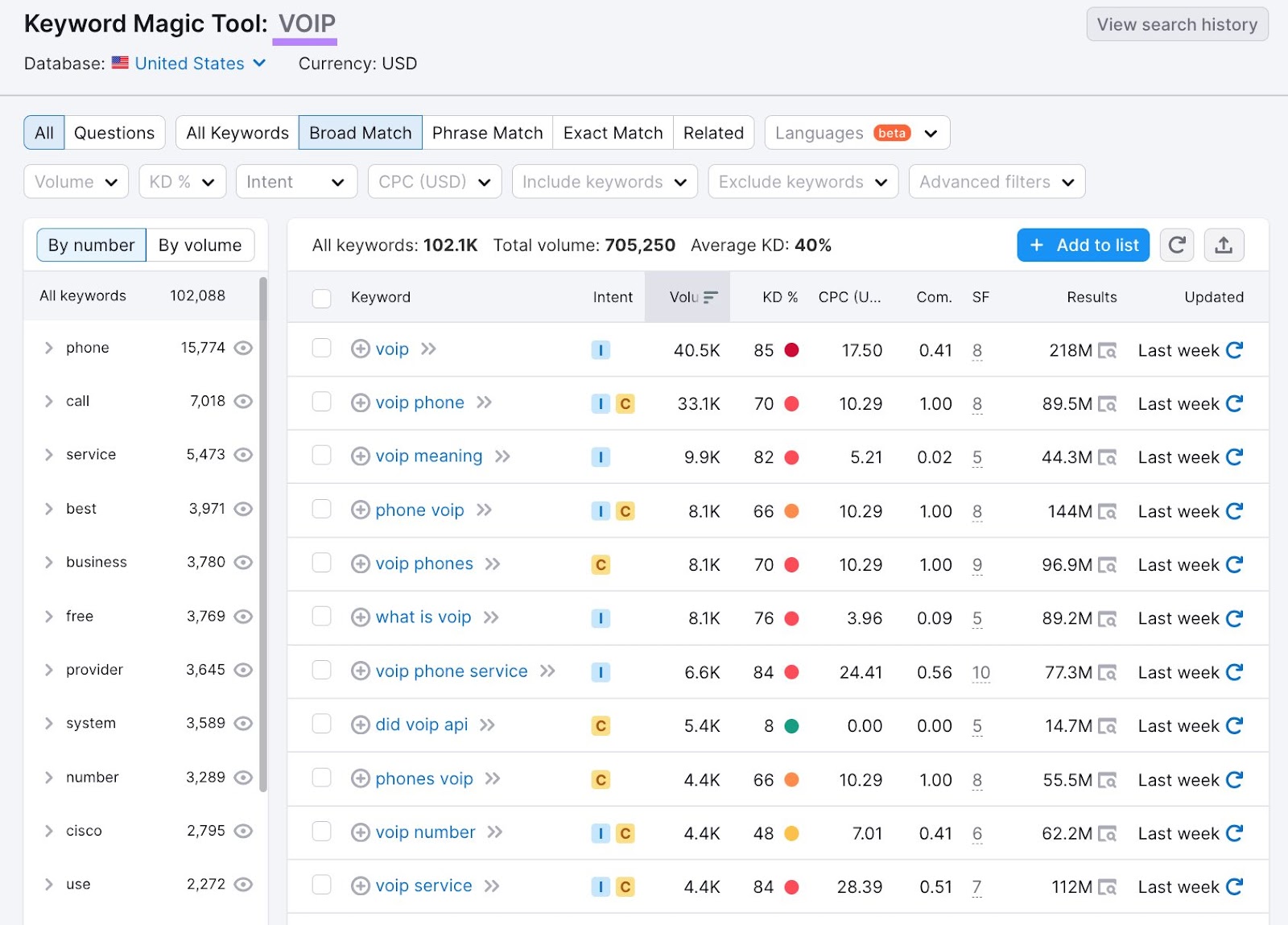 The first results you'll see are the most commonly searched terms. Which are usually the hardest to rank for. 
You can look for good opportunities by applying a filter.
For example, click on the "KD %" dropdown and select "Easy." Or, set a custom range from 0% (Very easy) to 49% (Possible).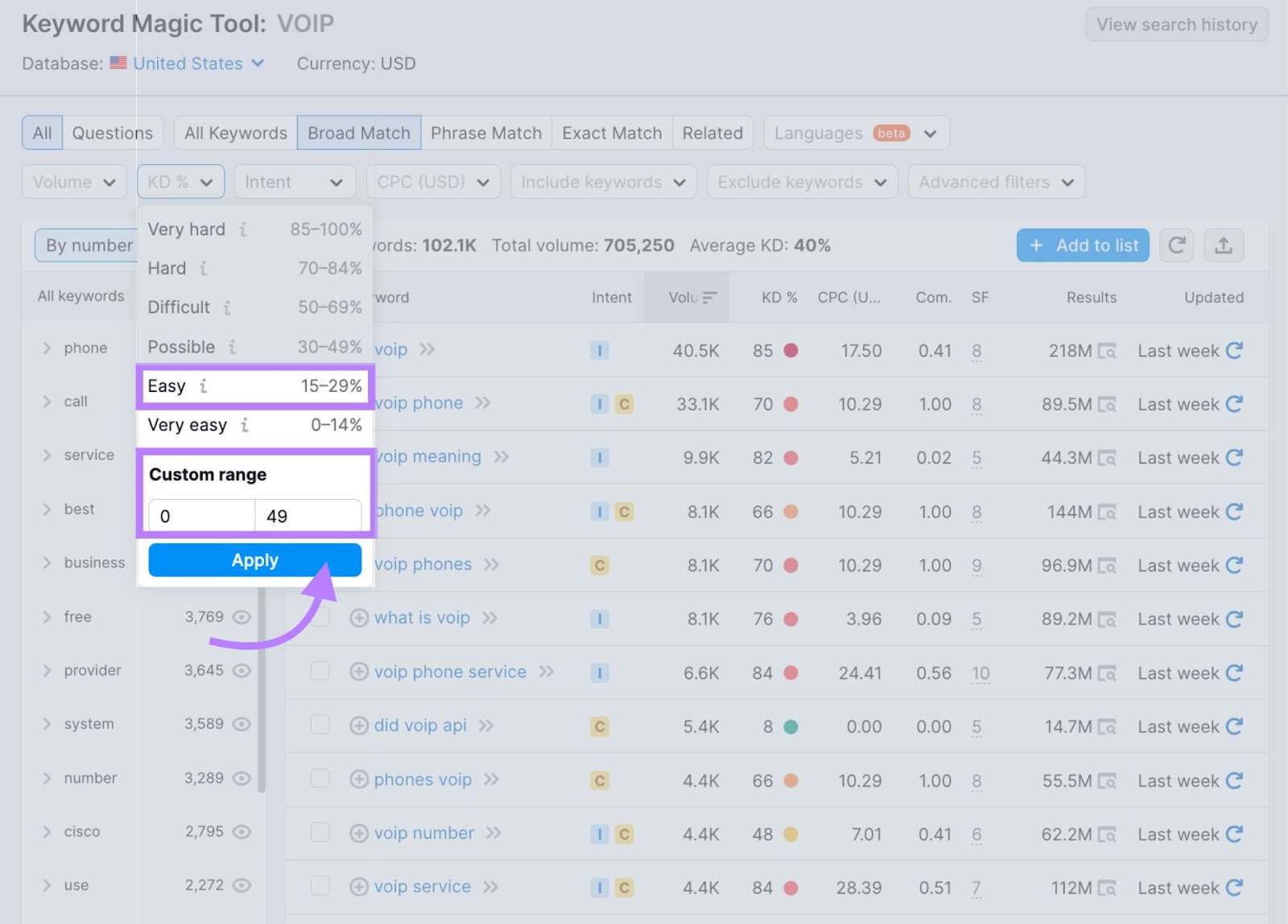 This will give you a list of keywords that you stand a good chance of ranking for. 
But your keyword list might already be filled mostly with terms you can likely rank for. So, you can also use the suggested groups and subgroups in the column to the left. 
Click on one of the groups that's relevant to your business.
Now, you'll have a list of niche keywords to use in blog posts, product pages, and more. 
2. Keyword Gap
Semrush's Keyword Gap tool uncovers competitors' niche keywords. Which you can target to outrank them. 
To get started, add your domain and up to four competitors' domains. Then, click "Compare."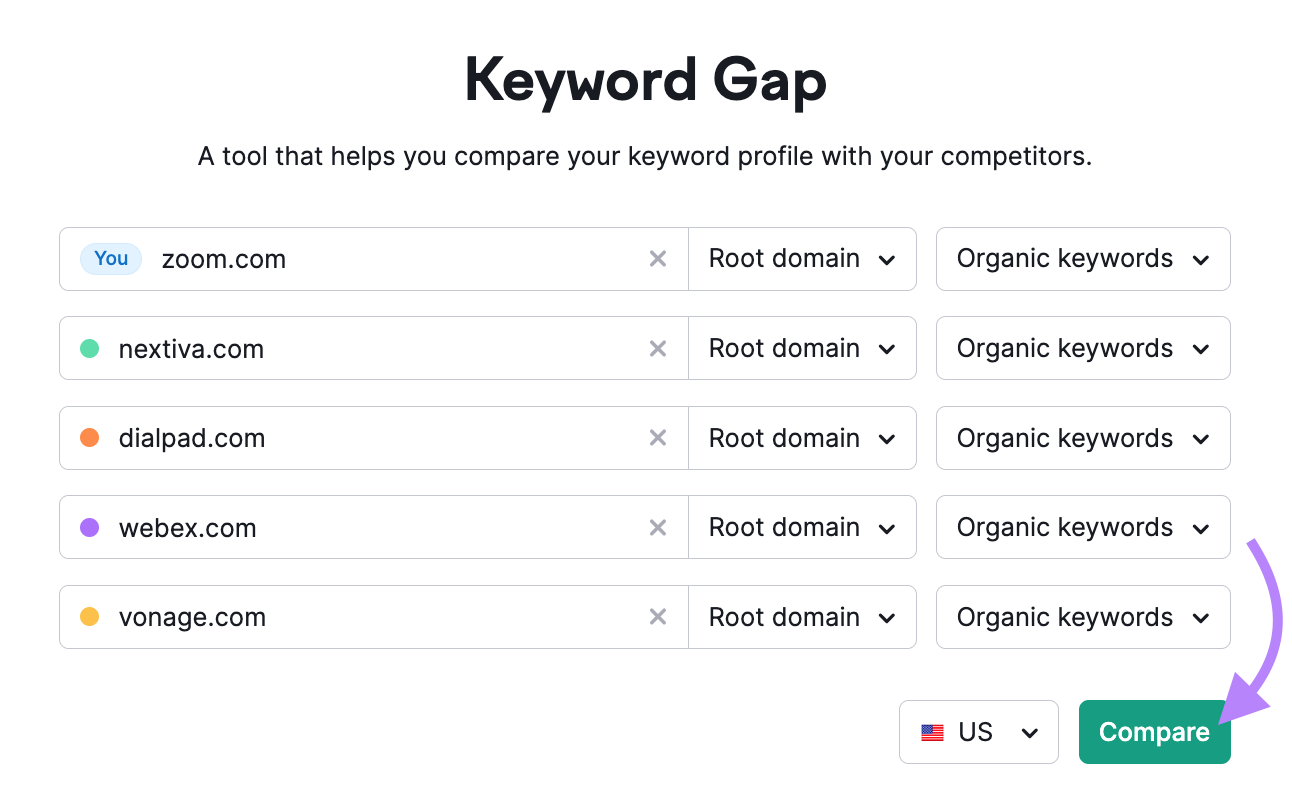 Scroll down to the table to see a list of keywords both you and your competitors rank for. It also tells you each domain's ranking positions, the keywords' monthly search volumes, and the Keyword Difficulty score for each keyword.
Click the "Missing" tab to see keywords your competitors rank for but you don't.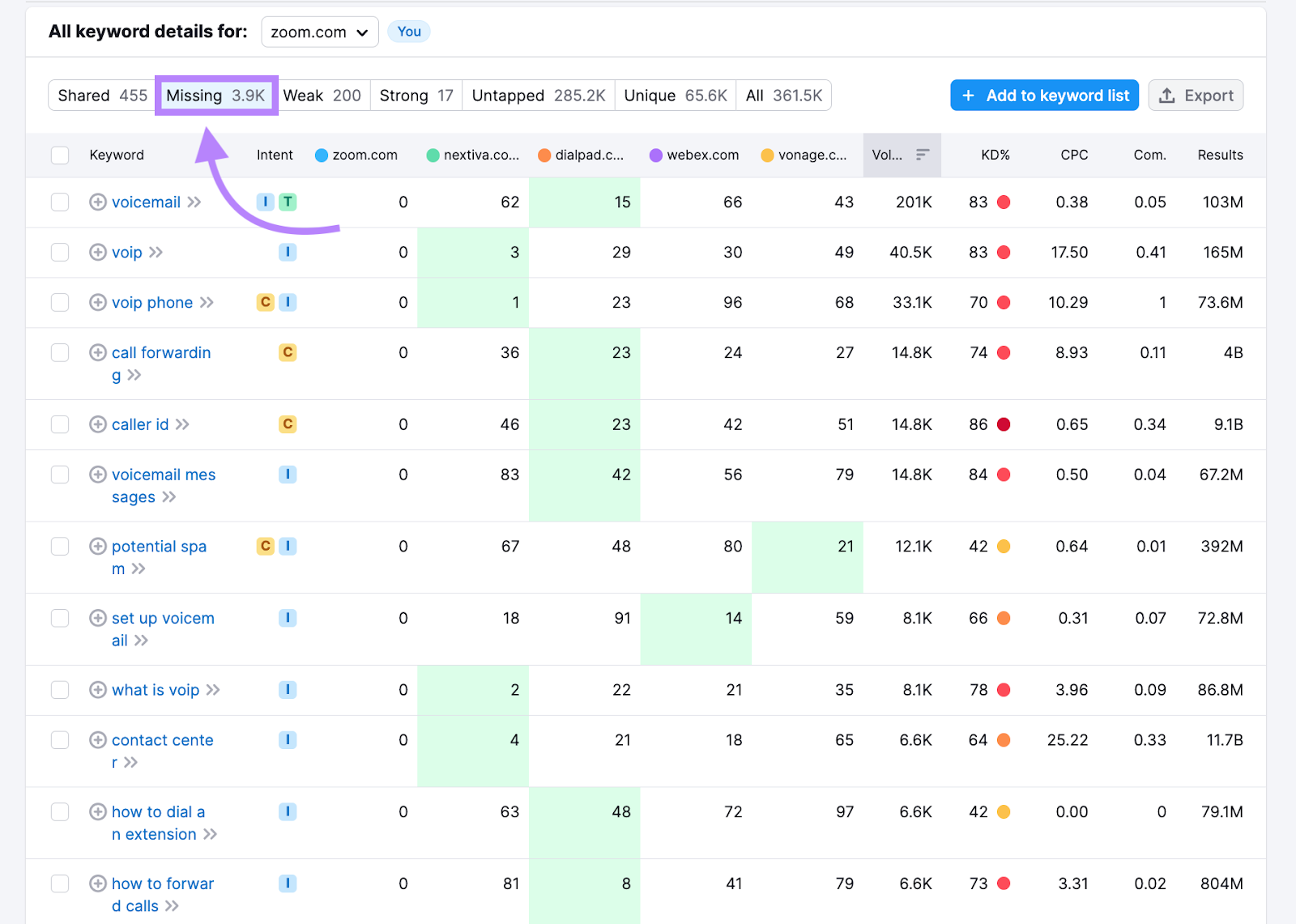 As with the Keyword Magic Tool, the top results are likely broad. To find niche keywords, use filters to refine your search. You might: 
Set the "KD %" to "Easy"
Set "Position" to "Competitors in the Top 20"
Set "Volume" to "11 to 100"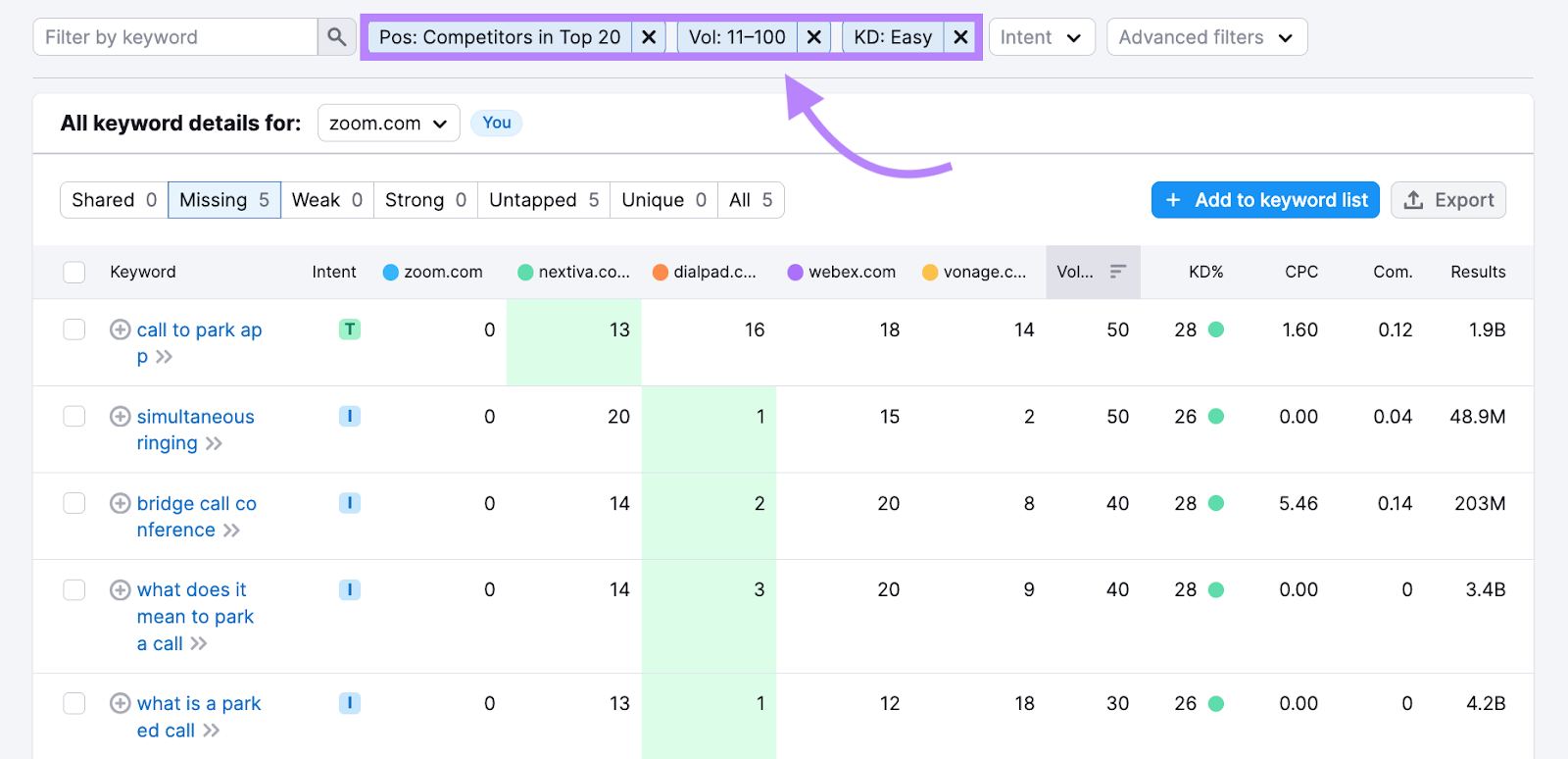 Play around with the filter options to get a list of potential keywords to optimize for. 
Now, click the "Untapped" tab to uncover keywords that you don't rank for but at least one of your competitors does. 
Click the check box next to any keyword you want to collect. Then, click "Export" to download them in your preferred format. 
You can use these keywords as part of your content marketing strategy.
3. Keyword Planner
The Google Ads Keyword Planner is built for advertisers to find target keywords for pay-per-click (PPC) campaigns. But you can also use it to research niche terms for organic content. 
Open the tool, and click "Discover new keywords."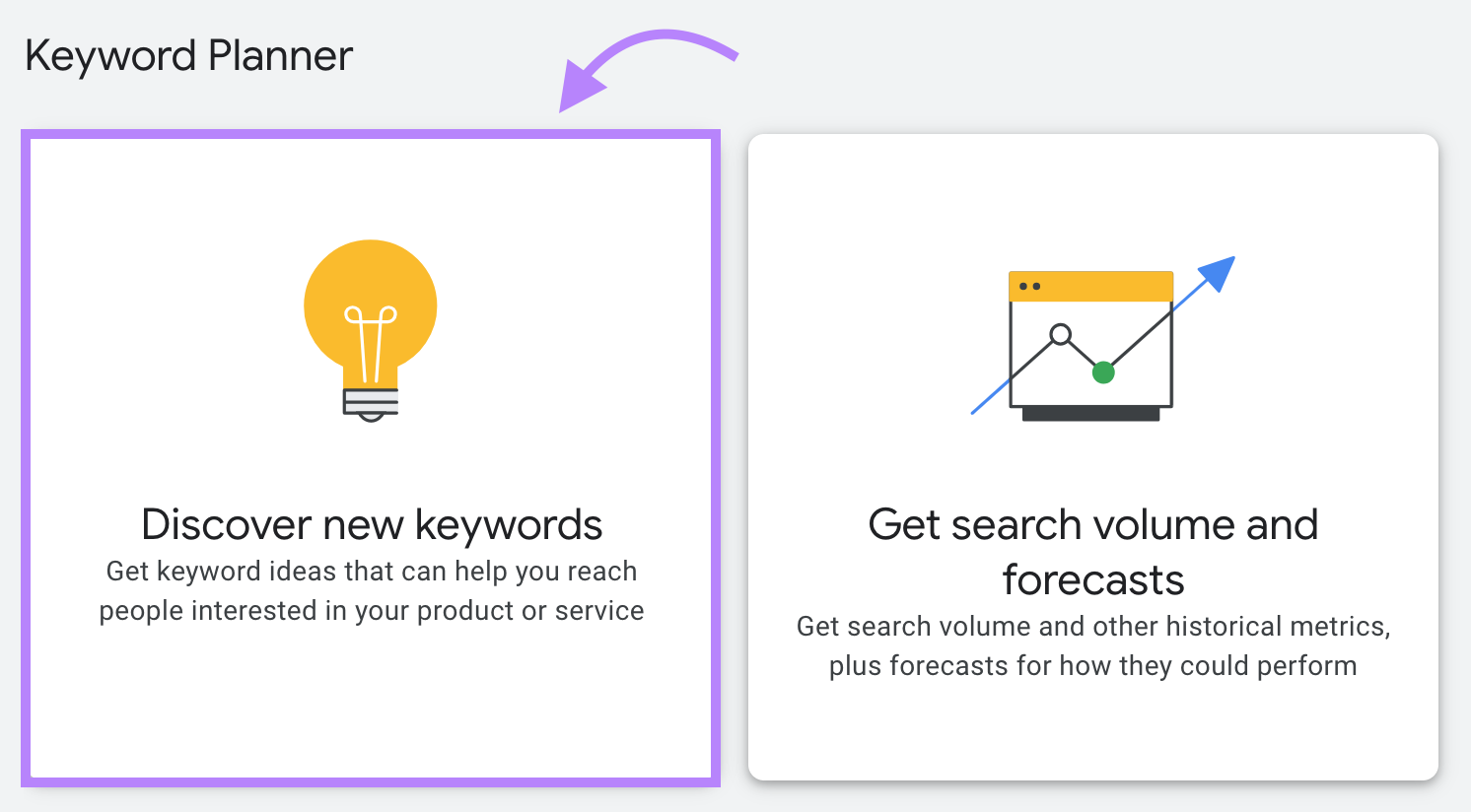 Start with a seed keyword related to your niche. 
Keyword Planner shows you related keywords, along with the average number of monthly searches and how competitive the ad placements are.
To find niche terms, you can sort the average monthly searches from low to high.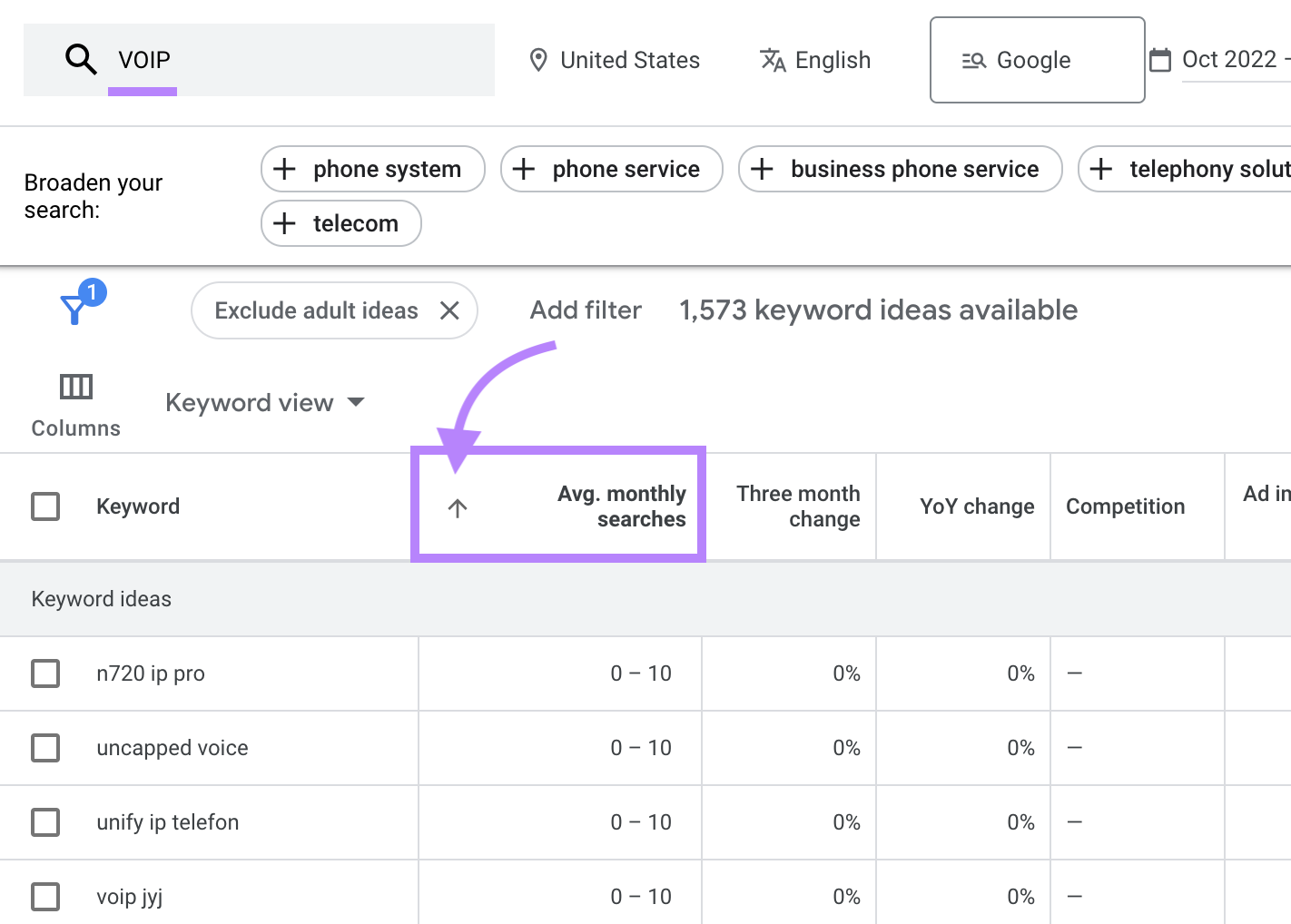 Keywords with a lower monthly search volume are more likely to be niche keywords.
On the right of the screen, where it says "Refine keywords" you can narrow your search to exclude irrelevant brands.
It then shows you a list of niche keywords that you can use to inspire your content.
Further reading: Google Keyword Planner: How to Use It to Find Keywords
4. Use Google Autocomplete Feature
The autocomplete feature on a Google results page can show you what people have been searching for within your niche. 
Here's how to use it to uncover relevant keywords. 
Start typing your keywords into Google's search box, and Google's autocomplete feature will list related terms people search for.
The longer your query, the more specific the suggestions will be. 
Say you're looking for niche keywords related to "social media scheduling tools." You could type "social media scheduling tools f" and get a bunch of long-tail keyword suggestions: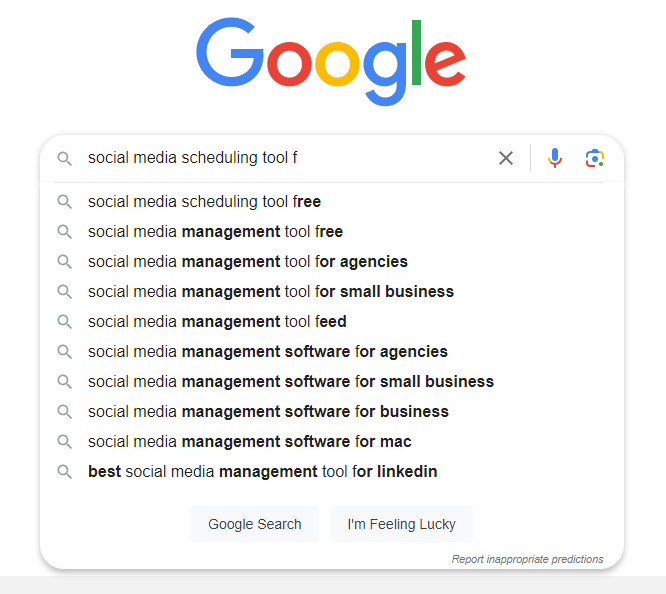 These aren't necessarily niche keywords. 
Autocomplete suggests terms that people commonly use. But you might uncover some gems. Or the seed of a gem. 
Add qualifiers to searches to create new, specific variations.
For example, if your social media scheduling tool is for small businesses, you might use "micro business" or "non-profits" as relevant qualifiers. 
5. Google Keyword Tool
Google Keyword Tool is a free tool that pulls results from Google's autocomplete feature to help you find niche keywords.
Type in a search term, and Google Keyword Tool returns a list of related terms. These are the same keywords Google shows you, but presented so you can easily save the best ones: 
Keywords have a rating from 0 to 100. The higher the score, the more popular the keyword. 
6. Google Search Console
Google Search Console (GSC) is a great tool to find niche searches. It shows you what keywords you rank for and how many clicks and impressions they get in Google searches—even if you're not actively targeting those keywords. 
Head to your GSC account. Then, click "Performance." Scroll down to "Queries" to find keywords people are searching for that direct them to your website. 
Scroll through results to find words people search for but that you don't intentionally target. 
7. WordTracker
WordTracker is an alternative to Google's Keyword Planner. It focuses on delivering relevant keywords from Google, Amazon, YouTube, and eBay. 
Enter a seed keyword, and the keyword report will show related keywords. Next to each one, you'll see performance, volume, and competition metrics.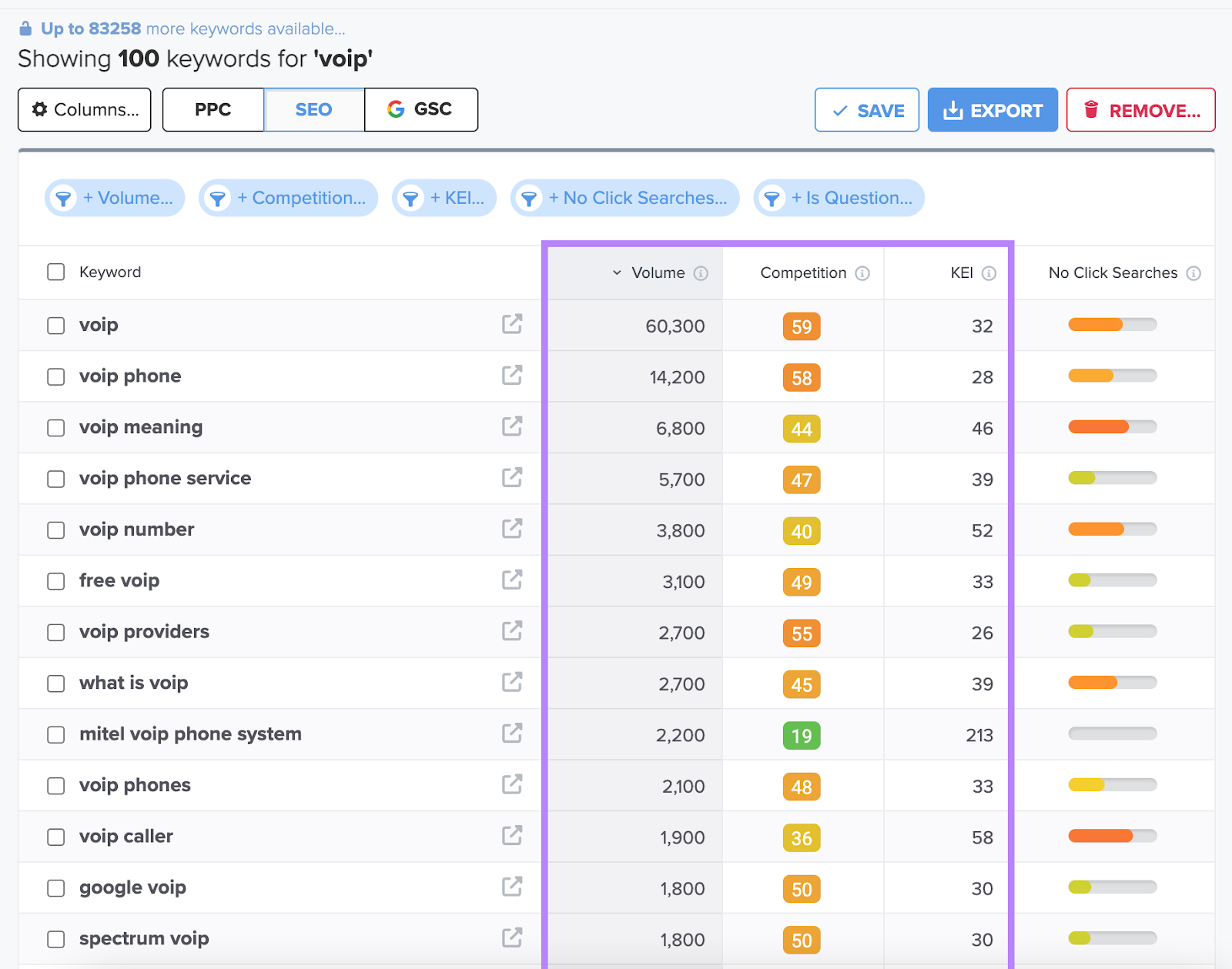 WordTracker also shows you the "IAAT" (In Anchor Text and Title) of a keyword. This is the number of web pages in which the keyword appears in the title and backlink text. 
The higher the competition and IAAT numbers, the more competitive a keyword is. 
You can also use WordTracker's Niche Explorer tool to find the top 100 keywords by category (e.g., business finance, clothing, food, etc.). 
You'll need an account to save or export your keyword list. Otherwise, you'll have to copy each term individually and paste it into a new document.
WordTracker is a paid tool with three tiers. But you can try it for free for seven days before committing. 
Optimize for Niche Keywords
Niche keywords provide an opportunity to boost your search visibility and attract targeted traffic.
Once you have your list, put those keywords to work by including them on webpages and in digital marketing assets. 
Ready to learn how? Take a look at the following resources:
Denial of responsibility!
Search Engine Codex is an automatic aggregator of the all world's media. In each content, the hyperlink to the primary source is specified. All trademarks belong to their rightful owners, all materials to their authors. If you are the owner of the content and do not want us to publish your materials, please contact us by email –
[email protected]
. The content will be deleted within 24 hours.