At this point in our SEO Reality Show journey, we've shared the step-by-step process that an agency has taken to build a solid SEO foundation for Edelweiss Bakery's website so that they can attract quality traffic to their site and increase conversions.
These steps include:
1. Conducting competitor analysis
2. Identifying link building opportunities
3. Mapping out a new site structure
4. Coming up with a list of keywords that most accurately describe what the bakery does/offers
5. Running a technical SEO audit to search for backend and frontend concerns
6. Redesigning a website homepage
7. Optimizing homepage with new meta tags
With a strong foundation laid for Edelweiss' site, the bakery shifted their focus to improving the bakery's local SEO. In this episode, we'll share how the agency optimized Edelweiss' Google My Business profile to increase their visibility in their local community. 
The Process
For most businesses with a physical storefront, ensuring customers can quickly and easily find their location is imperative. In fact, Google has reported that 46% of all Google searches are seeking local information.
For example, Edelweiss Bakery's service area is very localized in the Fort Lauderdale, FL area. It's unlikely that most customers located hours away would make the drive just to come pick up lunch from their cafe.
While this seems like an obvious detail, it's often overlooked by plenty of brands who prioritize the highest online search volume over high relevant local search traffic. 
The agency helping Edelweiss knows that optimizing for local search is essential, which is why one of the first steps they took was to see if the bakery had a Google My Business account that was claimed and optimized for more traffic.
A Google My Business (GMB) profile is like a snapshot of what a business is offering customers. It's important for businesses – especially those with a physical storefront, to optimize their profile to ensure the relevant information is being shown to potential customers.
Here's why this matters: if a company is registered in Google's directory as a local business, it will appear on their map in search results. 
Google automatically adds geo-factor filtering for users so that, when they search "european restaurant" or "german bakery," they'll see local cafes near them that meet their search criteria. 
The business will also appear in the extended Google snippet in the main search results page, which is prime real estate and can help entice clicks. 
To see a business's Google My Business profile, simply type the name of the business -or the entire domain name – into Google's search bar. 
This is what appeared when the agency did this for Edelweiss Bakery: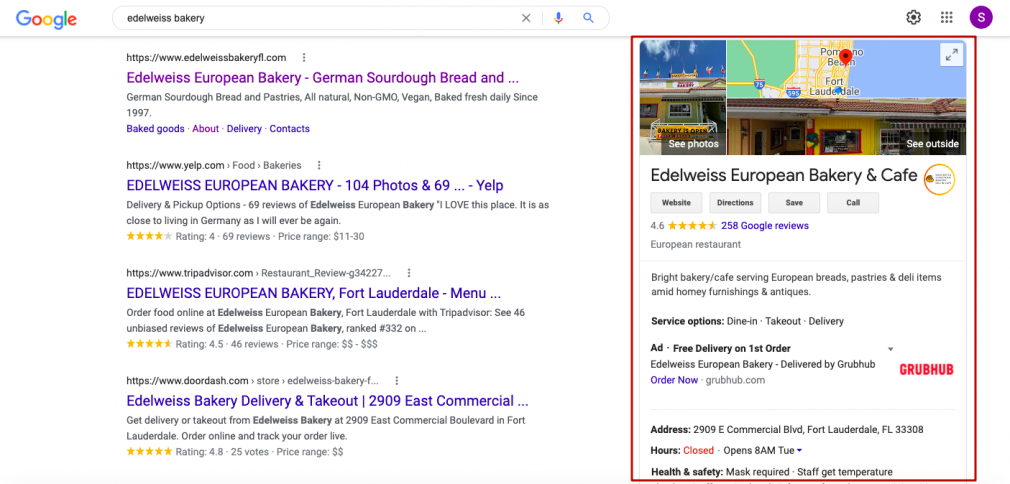 The agency also logged into Edelweiss' account to see how their Google My Business page was set up on the backend and how their profile could be optimized. 
The agency identified X sections within Google My Business that could be improved to enhance the bakery's local SEO: 
The name of the organization
The organization description
The types of categories and activities the company participates in, according to the Google listing 
Photos and menu
Customer reviews
Google My Business Profile Optimization
Let's go step by step through the process that the agency used to optimize the bakery's GMB profile. 
Step 1 — Optimizing the bakery business name 
There are several different ways a business name can be listed in Google My Business, including by: 
Brand name 
Brand name + type of activity
Brand name + type of activity + location indicator 
The agency has found that the latter option is often the most successful, partially because it includes keywords that users are commonly searching for.
Useful Tip: Don't keyword stuff your brand name title in GMB. Not only is it frowned upon in SEO, it canalso prevent the business' GMB profile from receiving verification. 
The agency also referred back to the list of semantic core keywords they'd created, to determine which keywords would be most relevant and effective for Edelweiss' GMB profile. 
Originally, the brand's name on their GMB profile was "Edelweiss European Bakery & Cafe."
Based on the semantic core research and factoring in the brand's location, the agency recommended changing it to: "Edelweiss German Bakery & European Cafe in Fort Lauderdale." 
This would help the bakery capture more local traffic and show viewers whether the bakery was within driving distance for them. 
Step 2 — Rewriting the company description
The Company description is just as important as a business's name in GMB as it tells users more about what the business does and what it offers customers.
In GMB, this is a short description that should be 750 characters or less (spaces included!). 
Edelweiss' initial business description was laid out in a bulleted list of talking points instead of as a written description of what the bakery could offer. 
Using the semantic keywords list, the agency evaluated what keywords were used on the bakery's main homepage.
This was the list they worked from: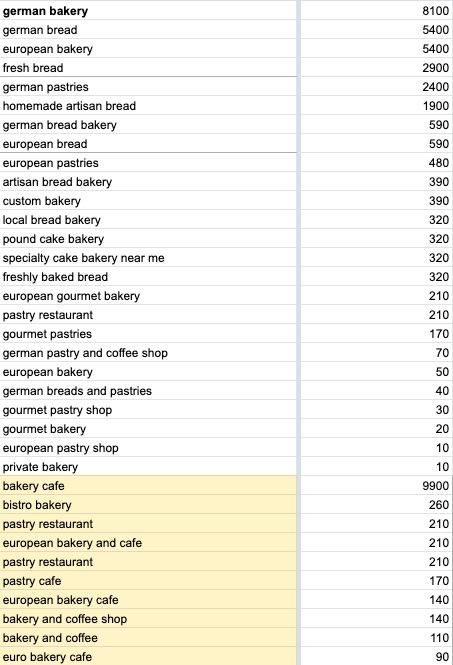 In the updated description copy, The agency updated the description copy to focus more on what the bakery offered customers while weaving in keywords (highlighted in the list above) that were both relevant and high volume. See below for the description that the agency drafted. 
Step 3 — Updating company "Activity" category 
In Google My Business' account setup, there's a section for selecting the type of "activity" your business conducts. Although some businesses overlook this section, it's in your best interest to pay attention to it and give careful consideration to your activity category. The activity category you choose can directly impact what searches your business shows up in. 
Google lets you choose 1 main category and several additional categories. Edelweiss' GMB profile included 4 activity categories:
European restaurant — the main type of activity
Cafe
Deli
Bakery
To help Edelweiss expand their customer reach, the agency proposed adding "Wholesale bakery" to their activity list to reflect the bakey's wholesale deliveries of bread and pastries. 
Step 4 — Assessing profile photos
The ability to add photos (and descriptive text) to a Google My Business profile is an important feature for businesses to take advantage of. 
Posting photos to a GMB profile offers several benefits:
Reiterates what your business offers. In the bakery's case, there are pictures of the location, the menu, and items that customers could order. Customers can get an idea of what's available for purchase. 
Increases trust. The more users can see online, the easier it will be to trust you. They see what they'll be getting when they arrive to your business, and feel more confident that you can deliver what's listed on your site. 
Gives you a competitive edge. Having attractive photos may be enough of a reason to get customers coming to see you instead of other options. 
Fortunately, the bakery was in good standing with their quantity and quality of photos on their Google My Business profile.
In addition to photos, businesses can also include other media attributes or information that's relevant to potential customers
Restaurants and bakeries, for example, can add information to let users know:
how they can pay
whether delivery is available
if the business is wheelchair accessible
etc.
In Google My Business, cafes and restaurants can add their menu to their profile. The agency noticed that Edelweiss didn't have their menu featured on their GMB account and offered to upload one for them.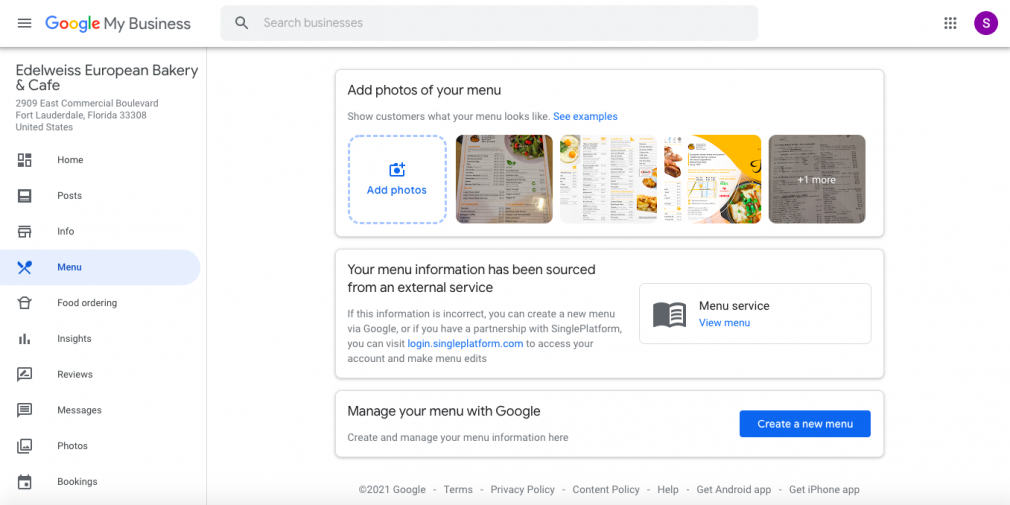 Step 6 — Reviewing reviews 
Brands with more reviews on their Google My Business profile gain higher visibility in search. They also tend to be more trusted by consumers compared to brands with only a handful of reviews — even if those few reviews are positive overall. 
Edelweiss Bakery has numerous positive reviews (258) on their Google My Business profile with an average rating of 4.6. 
While excellent, the agency noted that the reviews were not moderated in any way by the bakery. What's more is that negative reviews weren't responded to, and reviews, in general, went ignored. 
To improve this, the agency stressed that Edelweiss consider responding to both positive and negative reviews.
Responding to very positive reviews can convey to reviewers that you value their feedback and are paying attention. 
Responding to very negative reviews can help resolve a situation with an unhappy customer. It can also demonstrate that you value their experience. 
Edelweiss took note of this, and made a conscious effort to start responding to reviews on their GMB profile and ensuring that all negative reviews were responded to.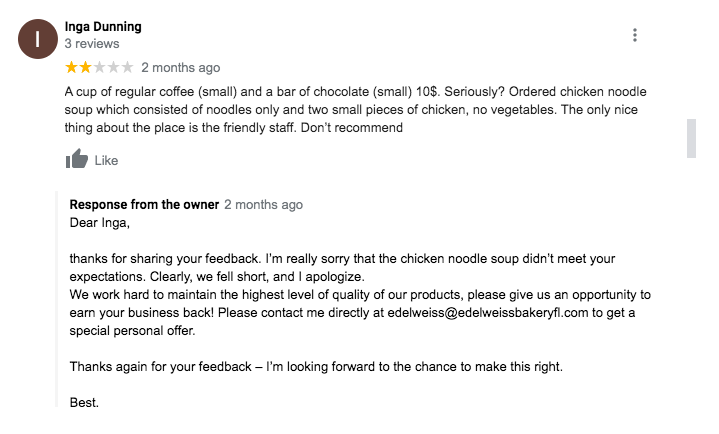 Registration in local directories
Although Google My Business is arguably one of the most important online directories, it's not the only one; there are many other local or industry directories that can help businesses increase their visibility in their local market. Registering on other local directories can also help boost your link building as it guarantees an external link to your site. 
To find new directory opportunities for the bakery the agency used Semrush's Listing Management tool (available to users with a Pro plan or higher).
This report showed that the bakery was only registered on four directories with no issues, but that they appeared on 24 other directories with some issues. There were also additional relevant directories that the bakery wasn't registered on as possible.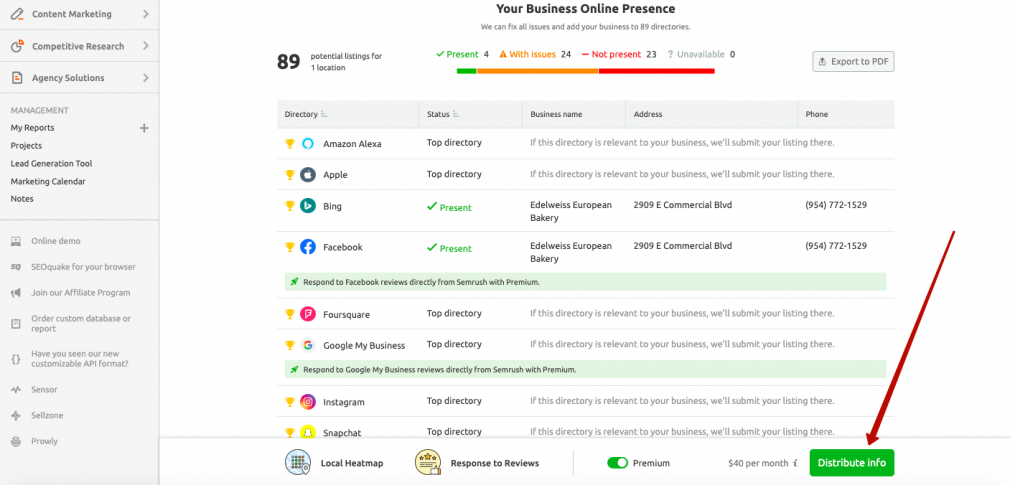 To remedy this, the agency used the Listing Management tool to send Edelweiss' company data, including the business name, their location and address, and their main activity categories, directly to the additional relevant directories so they'd start appearing on those as well.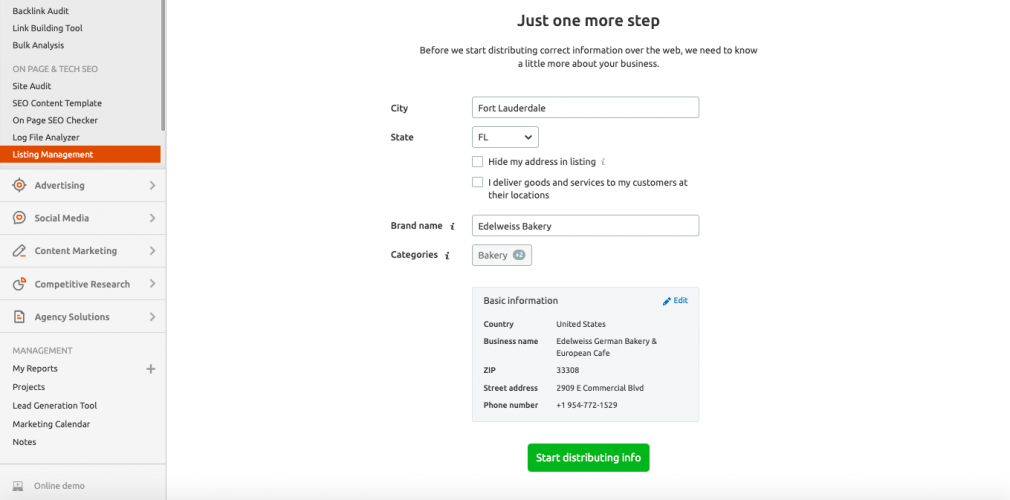 Two weeks after sending Edelweiss' data to these additional directories, the bakery was registered on 64 sites and in the placement process for 11 others.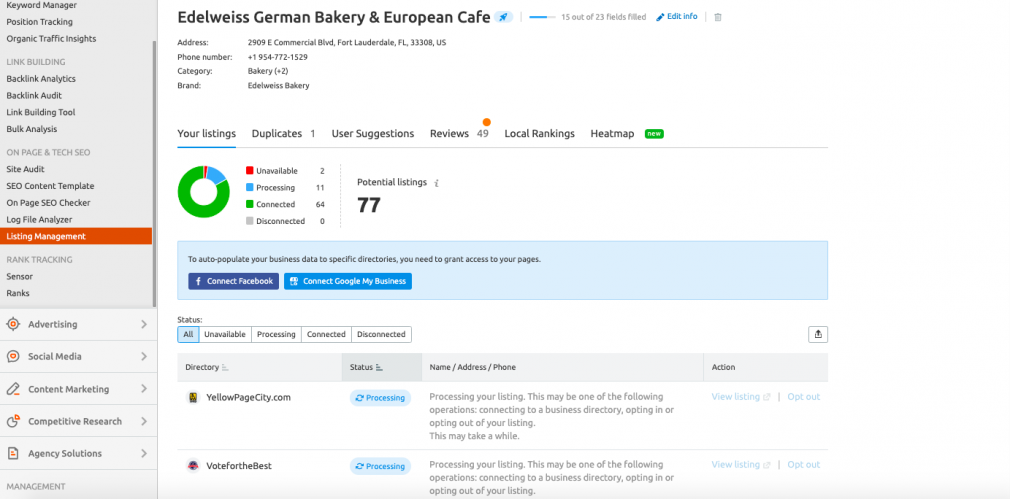 Stay Tuned For The Results 
Improving Edelweiss's Google My Business profile and adding them to additional local directories was the final step in the agency's site optimization project for the bakery. 
And although only a few months have passed since this initiative began, we do have some preliminary results that we thought would be valuable to share with you. 
Stay tuned for our next "case study" post to learn how Edelweiss' site has improved in terms of organic traffic, keyword positions and more.
Denial of responsibility!
Search Engine Codex is an automatic aggregator of the all world's media. In each content, the hyperlink to the primary source is specified. All trademarks belong to their rightful owners, all materials to their authors. If you are the owner of the content and do not want us to publish your materials, please contact us by email –
[email protected]
. The content will be deleted within 24 hours.