OpenAI recently offered paid subscribers the ability to create their own custom GPT and many in the search community have created and shared the tools.
Here is a partial list of some of the latest SEO related GPT agents that have been created and shared within the past few days.
The ability to create ones own custom GPT is an important evolution of ChatGPT for the search community because virtually any AI-based tool can be created without knowing any code.
One needs a paid OpenAI subscription in order to use the following tools.
It's useful to check out what's possible with the tools. They serve as inspirational examples of what can be done with personalized AI agents.
In terms of privacy, while I didn't check every custom GPT, the content submitted to the tools are not shared with the person who created them.
The privacy information is visible by clicking the "i" information icon that's next to the custom GPT author's name.
The list of AI agents is organized into the following four categories:
Content Quality
Analytics
SEO Analysis
Content AI Agents
Content Quality
Content Helpfulness and Quality SEO Analyzer
International SEO Aleyda Solis (LinkedIn profile) created and shared a custom GPT that evaluates and compares competitor content with your own.
The analysis evaluates for how closely the comparison content aligns to Google's guidelines for the concepts of helpfulness and quality. It also evaluates for relevance to the targeted search queries.
SearchQualityGPT – Content Analysis of EEAT
Analyzes how closely content aligns with Google's concepts of Experience, Expertise, Authoritativeness and Trustworthiness.
It might be interesting to test this tool by having it analyze top ranked content in the health niche to see what it has to say about that content.
If you're rolling your own custom GPT then it may be helpful to test it on content that is known to be authoritative or expert.
Analytics
Scott Hendison, CEO of Search Commander (LinkedIn profile), created the GA4 Commander. It offers step-by-step guidance on using Google's analytics tool GA4 and links to documentation.
SEO AI Tools
On-page SEO analyzer
Provide a URL and your pet keywords and the agent offers an on-page SEO analysis.
The accuracy or utility of a tool is only as good as the person who created it.
People tend to think of SEO as something with objective truths that are beyond dispute.
But the reality is that what constitutes SEO is not objective at all, it's very subjective. If we all agreed on what proper SEO is people wouldn't be having arguments about it on social media.
Which is why I say that every tool is only as good as the person who created it. If their idea of SEO aligns with yours then the output of the tool may feel satisfactory.
But if their definition of SEO is different, then maybe the person who created it is wrong or maybe they know a little more than you do.
Always keep an open mind.
Competitive Analysis AI
This tool requires users to share background information of the industry the website is in. Other information the tool needs is a competitor list and details of the which specific areas of SEO you need help with.
Screenshot of Information Need for Competitive Analysis AI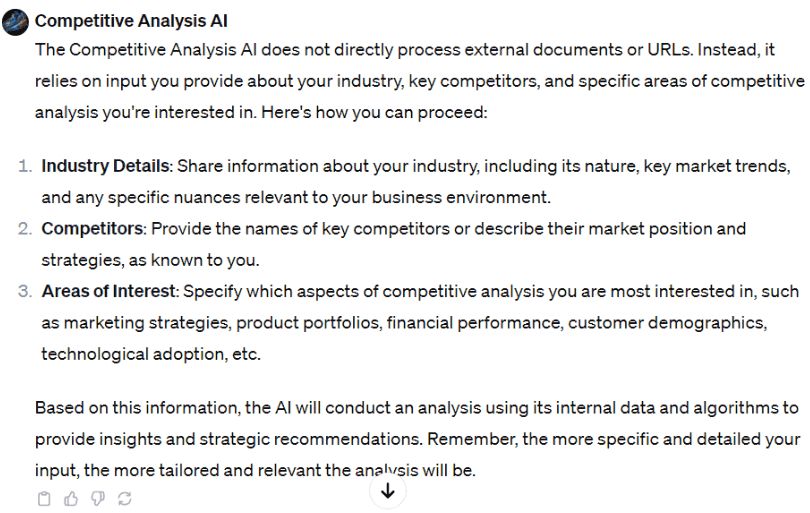 SEO Analyzer
Offers SEO analysis, website audit, competitive analysis and SEO recommendations.
The tool requires the following information:
Website URL
Competitor URLs
SEO Goals & Challenges
Brief description of current SEO strategy
Access to analytics data (if possible)
Target audience and keywords
Content AI Agents
Quiz Master
This tool is interesting because it will create multiple choice questions based on submitted content.
Some of these custom AI agents, like this one, can inspire an idea of a different agent. For example, this custom GPT made me think of a different one that analyzes content in order to create a list of all the questions that are answered by each block of content.
That output may offer an idea of what the web page is relevant for, which may or may not be what the author intended.
ArticleGPT – Article Writer
The description of the tool says that it's an expert at "SEO-optimized article writing."
And yes, we know that "SEO-optimized" means Search Engine Optimized-Optimized.
Article Expert – Article Writer
This is another tool that is described as an expert in Search Engine Optimized-Optimized content. This tool differentiates itself by offering a side of AI generated images to go with the content.
Article Assistant
This tool seems promising because it will go out and do the research for the article. Just tell it what you want.
Examples of what to ask the tool to do are:
Draft a professional article on recent tech innovations
Write a detailed article on health and wellness trends
StyleMaster
This custom GPT matches the writing style of article examples submitted for it to analyze. Just upload samples of the content and the tool will generate content in that style.
Blog Expert – Blog post writer
This tool writes blog posts.
Magic Writer – Article Writer
This tool offers to be an "SEO-optimized Writer Buddy."
Viral Hooks Generator
Offers engaging sentences and phrases that are useful for articles, social media. It's just the phrases and not titles, headings or complete articles.
ChatSEO – Drafts and Improves Content
The agent helps improve content as well as create a draft of new content.
Content Curation
This tool generates content according to whatever parameters are needed.
For example, you can ask it to create content about trending viral news for the past week or to write a listicle article of top rated products or generate content about ten SaaS tools launched within the past month.
For SEOs By SEOs
There's a DIY quality about these new tools that reminds me of the early days of punk when regular folks decided they could make music too. OpenAI has made it possible for non-coders to make the exact AI tool that they need without having to pay expensive monthly fees.
We're living through a new moment in SEO where the power of AI is within reach of virtually anyone.
Denial of responsibility!
Search Engine Codex is an automatic aggregator of the all world's media. In each content, the hyperlink to the primary source is specified. All trademarks belong to their rightful owners, all materials to their authors. If you are the owner of the content and do not want us to publish your materials, please contact us by email –
[email protected]
. The content will be deleted within 24 hours.