What Is an SEO Strategist? 
An SEO strategist is responsible for creating and executing strategies to optimize a website's visibility and ranking on search engine results pages (SERPs). Their role involves conducting keyword research, analyzing website performance, implementing on- and off-page SEO techniques, and monitoring data to make informed decisions. 
The goal is to enhance organic traffic, increase domain authority, improve user experience, and ultimately drive more relevant visitors to the website, aligning with the client's objectives and target audience.
Here's a quick overview of common SEO strategist tasks: 
Researching keywords to identify opportunities that align with content pillars and broader business goals
Auditing or optimizing existing content and identifying new traffic opportunities
Scrutinizing web page data for areas of improvement (e.g., an underperforming landing page missing relevant keywords)
Finding opportunities for paid search campaigns to help drive traffic and revenue
Sizing up the competitive landscape to find areas where clients can get ahead
An SEO strategist shares many of the same responsibilities as an SEO specialist. However, a strategist is usually more involved in creating long-term plans, prioritizing high-level activities, and collaborating with other departments like marketing or engineering. 
SEO specialists are in charge of executing these activities, such as making technical website changes.
What Does an SEO Strategist Do?
An SEO strategist uses a variety of tactics to deliver measurable results. Here's a look at the most common tasks for this role. 
Keyword Research
Keyword research helps strategists identify search volume, competition, and topical relevance to uncover the best keywords to target. 
It removes the guesswork, giving strategists deeper insights into what the target audience wants. Semrush's keyword research tools, like Keyword Manager and Keyword Magic, help SEO professionals identify the best keywords and related concepts for content.
Strategists can use these resources to determine the best SEO opportunities for each client, such as keyword variations, questions to answer, and related keywords to include within content. 
SEO strategists will create a comprehensive keyword research strategy to build a strong foundation for content and website optimization efforts.
User Research
SEO strategists conduct user research to understand how people search for information and the keywords they use to find it. 
By focusing on customer pain points, they have a hand in creating, optimizing, and updating content that drives engagement and revenue.
However, keyword research isn't as effective without an in-depth understanding of the client's target audience and their search intent. 
Because of this, SEO strategists analyze the intent behind a search query with tools like Semrush's Surround Sound and tailor their content and optimization strategy accordingly.
SEO strategists will also need to optimize websites to meet the audience's needs. 
For example, an SEO strategist might use a social listening tool like Talkwalker or Infegy to audit social media conversations to find customer concerns, questions, and pain points. 
The strategist can use this insight to make improvements to the client's website and content and social media strategies. 
Along with social listening, SEO strategists may also gather insights and monitor user behavior with heat maps to conduct user research that will inform their strategies. 
Link Building
Link building is a crucial component of an SEO strategist's role since it can lead to more authority, higher rankings, and increased traffic. A strategist will research keywords and make content recommendations to help each client attract organic backlinks.
They may also handle link-building outreach by contacting other websites in the same industry to build backlinks through guest posts, press releases, and social campaigns. 
Semrush's Link Building Tool gives strategists access to quality backlink sources to help build effective client campaigns. 

Content Brief Creation 
Depending on client needs, SEO professionals may also create SEO content briefs for writers. This includes conducting keyword research to choose the best terms for each piece and competitor analysis to provide content direction. 
That will help writers create high-quality content that naturally attracts organic backlinks and traffic. A tool like SEO Content Template can help speed up brief creation efforts by generating automatic SEO recommendations and competitor URLs. 
Local SEO 
Local SEO is the process of optimizing a website's content, structure, and local listings to rank highly in results when users search for businesses or services in a specific geographic location. 
It's particularly useful for businesses that rely on local customers, like restaurants and automotive dealerships.
If an SEO strategist has a client with a local business, they will handle local SEO tasks to help attract area-specific customers.
For example, the strategist might create or claim a Google Business Profile for their client, target local keywords like "Mexican restaurant near me," and share relevant content that builds local brand awareness and increases traffic.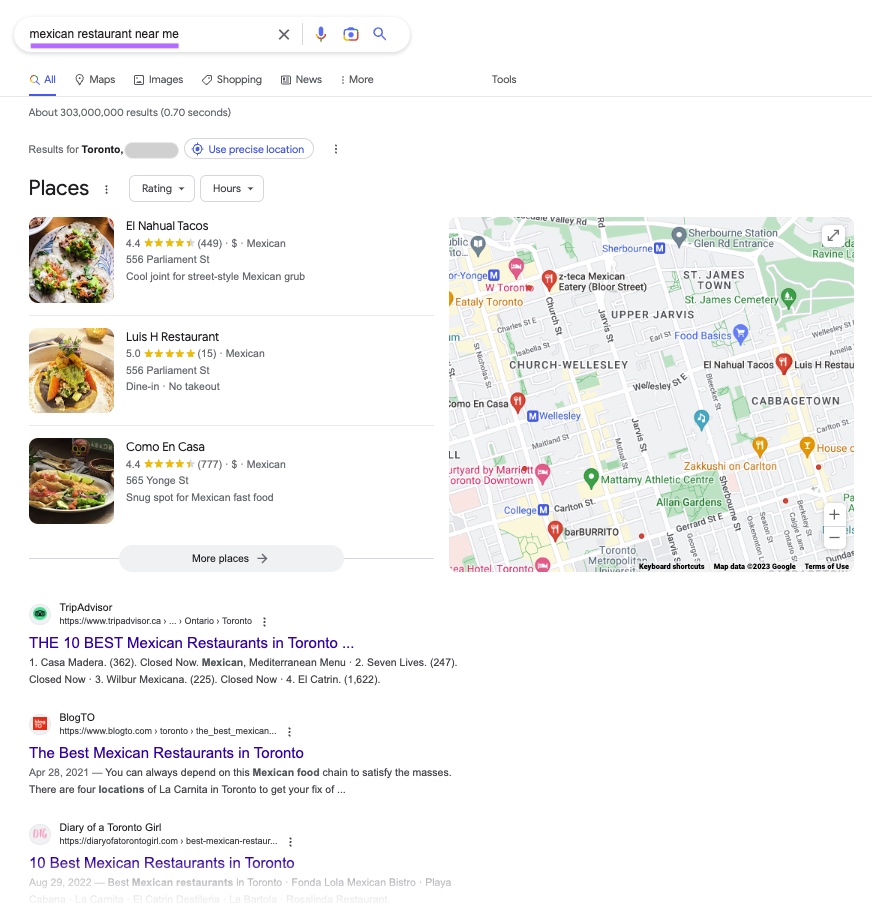 Google's search algorithm uses relevance, distance, and prominence to show pertinent local results. Strategists can research what keywords competitors use and try Google's autocomplete feature to uncover more terms.
Strategists can use a variety of tools to help with local SEO and data analyzation. 
This includes Listing Management, which tracks customer reviews, submits to 70+ directories, and adds the business NAP (name, address, phone number) to the most impactful resources.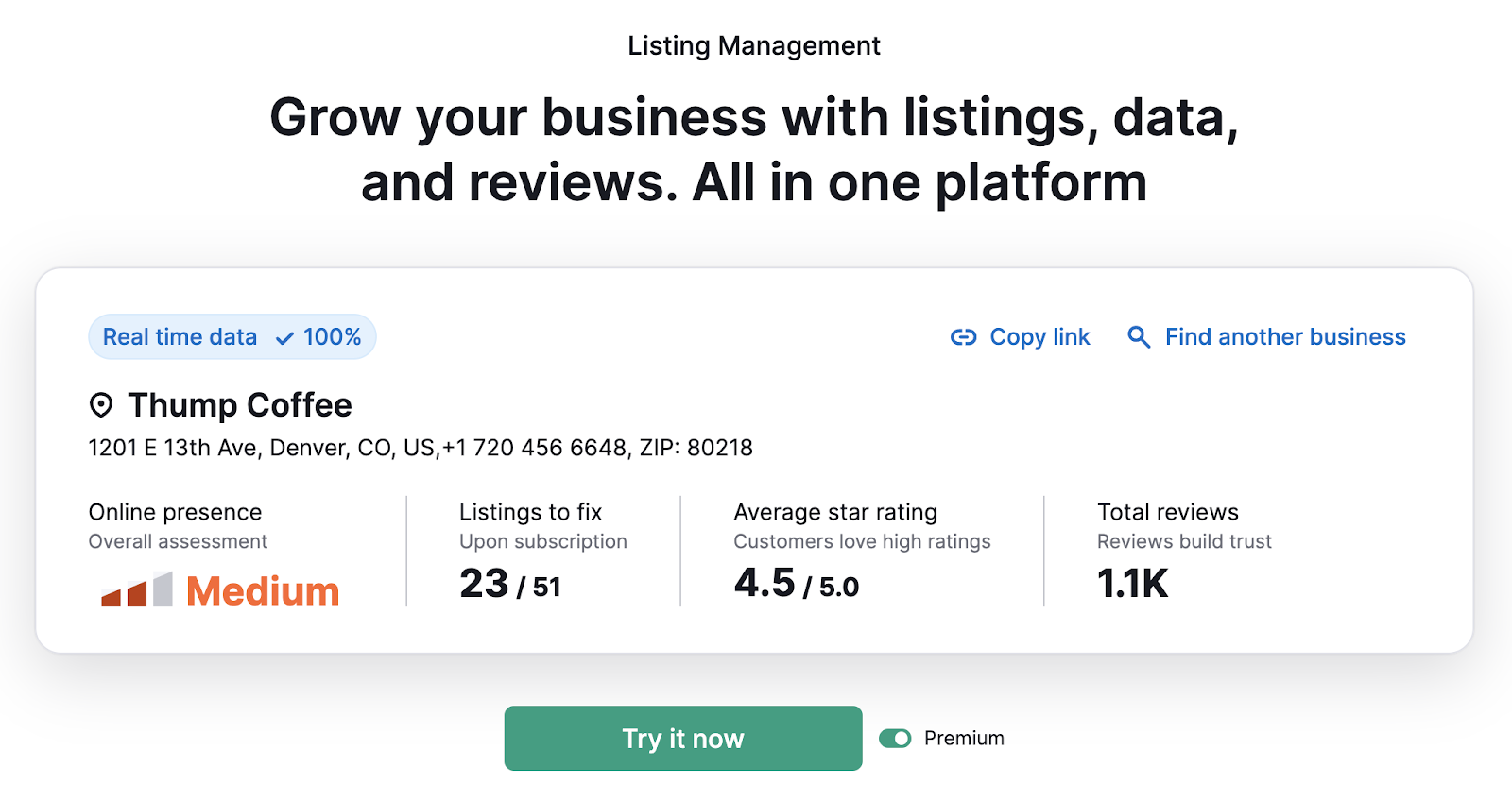 For example, an analysis of Thump Coffee by the Listings Management tool highlights missed listings and online presence issues. In better news, the shop has a high star rating and a lot of reviews.
Similarly, an analysis of the Mexican restaurant Playa Cabana highlights issues with incorrect phone numbers, missed listings, and the restaurant's online presence. 
Local SEO analysis allows strategists to understand the search landscape better and improve their website's visibility in localized SERPs.
Depending on the client, a strategist may use social SEO platforms like Facebook, Instagram, and TikTok to improve organic search ranking and visibility. 
While social media doesn't directly contribute to search engine rankings, engagement on these platforms builds customer loyalty and trust while driving exposure. All these factors can boost web traffic. 
To help with social SEO tasks, strategists can use a tool like Social Media Marketing Platform, an all-in-one solution to build a brand's presence. Strategists can connect clients' social profiles to get insights like total audience, engagement, and comment counts. 
For example, a search of The Food Network's social presence shows its audience and engagement across different platforms and allows teams to schedule posts.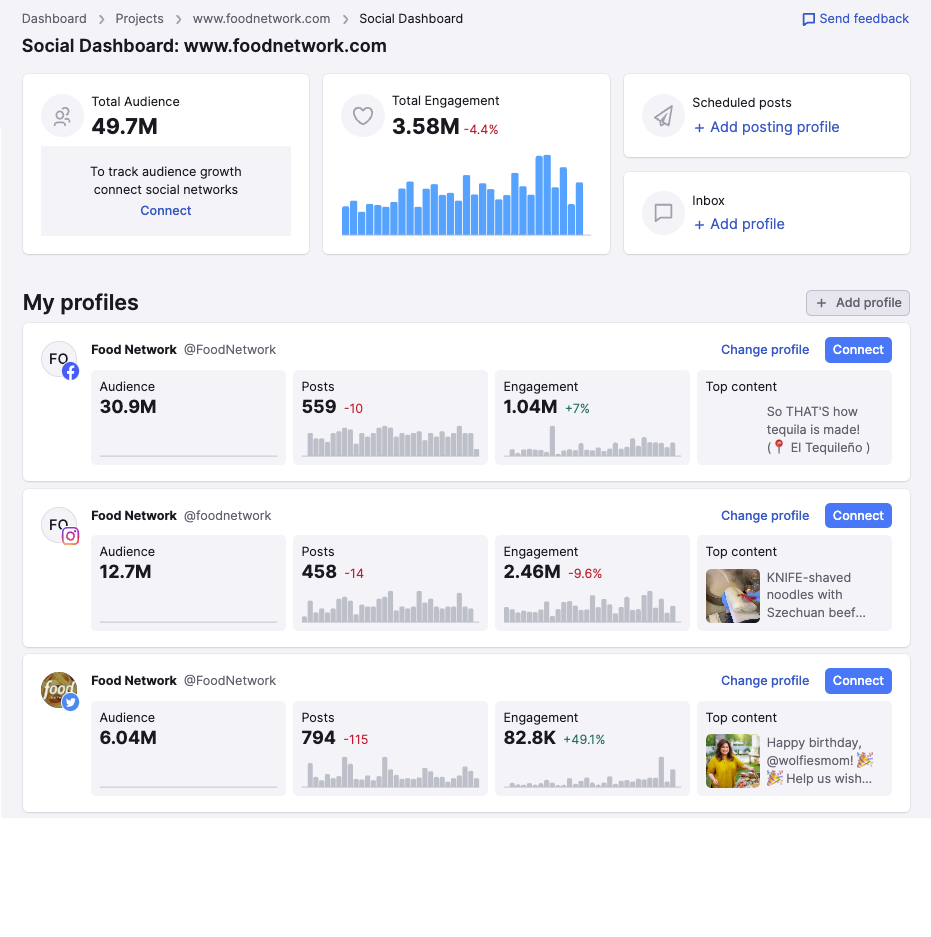 SEO strategists can use this information to provide recommendations to content or marketing departments. Depending on the client's wishes, they may also make content updates themselves or provide direction to writers and editors. 
Content Strategy
SEO strategists help with content strategy at every stage. The first step is a content audit to analyze and assess website content, understand performance, and identify gaps. 
According to our 2023 State of Content Marketing report, 61% of content marketers that succeed the most in content marketing conduct audits two or more times a year. Strategists will regularly use audits to run SEO checkups and find optimization opportunities to help clients succeed.
SEO strategists play a vital role in this process by handling the following tasks: 
Collecting and analyzing data
Optimizing pages 
Updating or removing outdated or low-quality content
Strategists can also generate a list of targeted keywords so marketing and content teams can build content calendars for assets like blog posts, articles, white papers, ebooks, and more. 
They may also help with brief creation in this stage and review final drafts for SEO purposes before they're published. 
Of course, SEO strategists also play a significant role in managing content once it's published. They will create a timeline for reviewing content performance and optimizing pages to ensure they maintain or improve rankings. 
Strategists will often also create a process for updating blog posts to ensure their client's content remains accurate and high quality. 
But this is not a "one and done" process. SEO strategists will continually update content to ensure their clients' web pages are in the best possible shape.
Key SEO Strategist Skills
An SEO strategist needs a blend of technical proficiency, creativity, and communication skills to be successful. 
Here are the top skills a strategist needs: 
Technical Knowledge 
SEO strategists will benefit from a technical understanding of HTML, CSS, Javascript, and other front-end development languages to improve and understand a website's health.
In addition, understanding how headers, title tags, meta descriptions, and other on-page elements impact performance is essential for helping SEO strategists improve rankings.
Strategists often need technical skills to effectively implement and manage SEO tools in addition to SEO plugins as well. 
Analytical Skills
Turning raw data into actionable insights allows strategists to improve website performance and provide impactful reporting to clients.
Analytical skills help SEO strategists identify patterns in data, find the root causes of issues, and determine the best solutions. 
SEO strategists also track performance over time to evaluate which activities and experiments work and which don't. They can use tools like Google Analytics, Google Search Console, and Semrush to interpret data, draw conclusions, drive decision-making, and pivot strategies. 
Creativity 
Creativity allows SEO strategists to brainstorm ideas, explore different angles, and develop innovative solutions. 
SEO strategists use creativity to highlight content gaps, provide keyword suggestions, and improve blog post formatting. These changes can boost SEO results, readability, and page and domain authority. 
Adaptability 
Assessing changing algorithms, adapting strategies, and analyzing success metrics allows SEO strategists to remain competitive in an evolving digital landscape. 
The Helpful Content system, Core Web Vitals report, and Google E-E-A-T (Experience, Expertise, Authoritativeness, and Trustworthiness) criteria all affect how websites rank and how SEO strategists approach optimization. 
The ability to pivot is critical because Google's algorithm and SERPs change constantly.
Strategists must stay on top of trends, understand how industry verticals differ, identify competitor opportunities, and know best practices.
Communication Skills
SEO strategists must be skilled communicators who can explain complex technical concepts in simple language and collaborate with content creators, developers, and other stakeholders. 
Collaborating across teams and managing expectations can help SEO strategists succeed at their jobs and get better results for clients. 
Also, communication is crucial for acquiring new clients. As a strategist, you will likely put together an SEO proposal for each client detailing the services you'll provide, from audits to on-page optimization.
You'll need to effectively communicate these services and explain why you're the right person for the job. 
In addition, you'll need to either present or email reports and updates to clients, which requires solid communication and writing skills. 
How Do SEO Strategists Measure Results? 
SEO strategists measure results based on the business goals set by the client or company. 
Since SEO can have different goals—engaging an audience, bringing people into a funnel, or driving revenue—strategists must look at various key performance indicators (KPIs) to track results. 
Traffic Analysis 
Traffic analysis involves tracking the number of people who visit a website and how they got there. It offers competitive insights that help strategists spot trends and set benchmarks. 
It also helps uncover web traffic data and find platforms that drive the most engagement.
Enter domains on Semrush's Traffic Analytics to analyze traffic volume, website audience insights, and competitor data. This information helps strategists understand who's visiting the website and what pages they click on or avoid.

For example, the Traffic Analytics report for Playa Cabana provides information about visits, bounce rate, traffic journey, and audience overview. 

SEO strategists can use these insights to inform their strategy to help drive more traffic, improve user engagement, and increase conversions and revenue.
Conversion Rate
Conversion rates measure whether content converts visitors into leads. The action might be small—a download, signup, or form submission—but it's a sign of the visitor's interest in the product or service. 
A conversion rate gives insights into customer behavior and patterns while helping SEO professionals maximize investment returns.
SEO strategists analyze high-performing content and customer survey results to identify touchpoints. They also use A/B testing to determine which content resonates most with their client's audience. 
Finally, they analyze different aspects of the website and optimize the ones that bring in the most conversions.
Keyword Volume Growth
Keyword volume growth is an early indicator of a strategy's effectiveness. It measures how many keywords a website ranks for and how much it's growing over time. 
SEO professionals can monitor their website's rankings using Semrush's Keyword Overview Tool to determine how well their content is performing and track trends.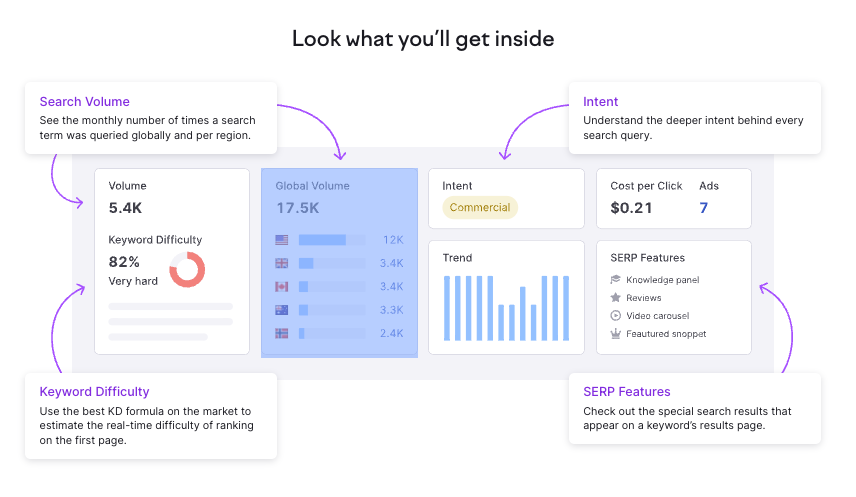 By tracking keyword volume growth, strategists will know if their approach is working and on track to meet goals.
How to Become an SEO Strategist
Now that you know what it takes, here's how to get started with an SEO strategist career:
Learn SEO Basics
To become a successful SEO strategist, start by gaining a solid understanding of SEO principles through self-study, online courses, or formal education. 
Learn the fundamentals of optimization, search engine marketing (SEM), keyword research, on-page optimization, off-page techniques, link building, and analytics. 
Ready to get started now? 
Semrush Academy offers many free courses taught by best-in-class marketing experts to help you gain and hone SEO skills that will help you start your career.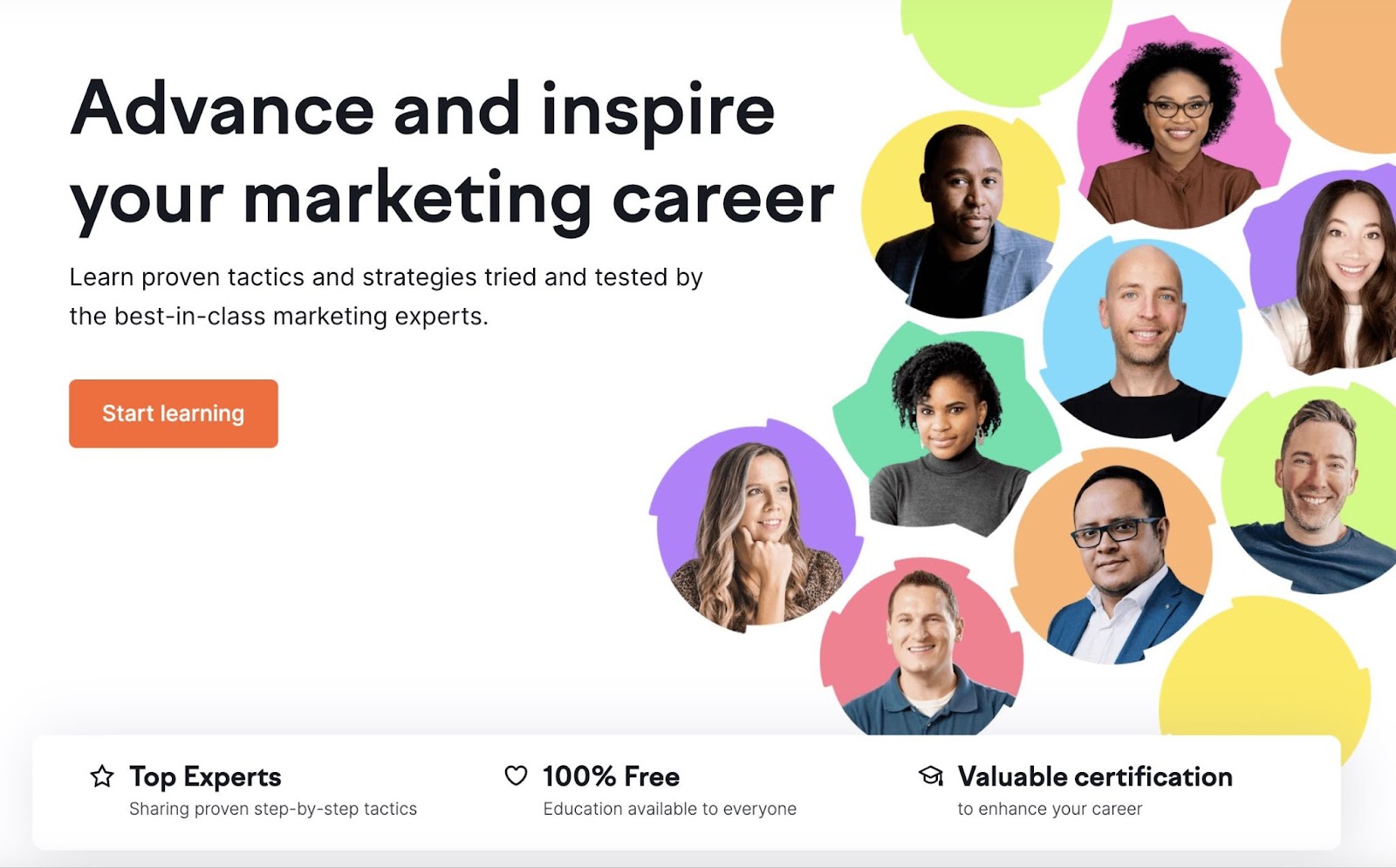 A comprehensive understanding of SEO helps you apply the right techniques for successful SEO campaigns.
Gain Practical Experience 
After gaining foundational knowledge in SEO, aspiring SEO strategists should actively apply this knowledge by implementing SEO strategies on personal websites or small-scale projects. 
This hands-on experience provides an opportunity to experiment with various techniques, track results, and understand the practical implications of different strategies in real-world scenarios. 
You can optimize website content, implement on- and off-page SEO, conduct keyword research, and analyze data to see how these actions affect search engine rankings and organic traffic.
Stay Up to Date 
Stay current with the evolving SEO landscape by following industry blogs, attending webinars, and participating in relevant communities. Knowing the latest algorithm changes and trends will help you get new clients and improve your results. 
A close watch on behavioral analytics and search algorithm updates can help you adjust your strategies and understand what changes you need to make to keep rankings high. 
Network 
Stay in touch with the SEO community and build relationships with industry experts. Keep up with updates, trend shifts, and opportunities to contribute to the industry. 
Follow SEO-focused groups on social media, attend industry events, and join Slack channels like Superpath to stay connected to the community.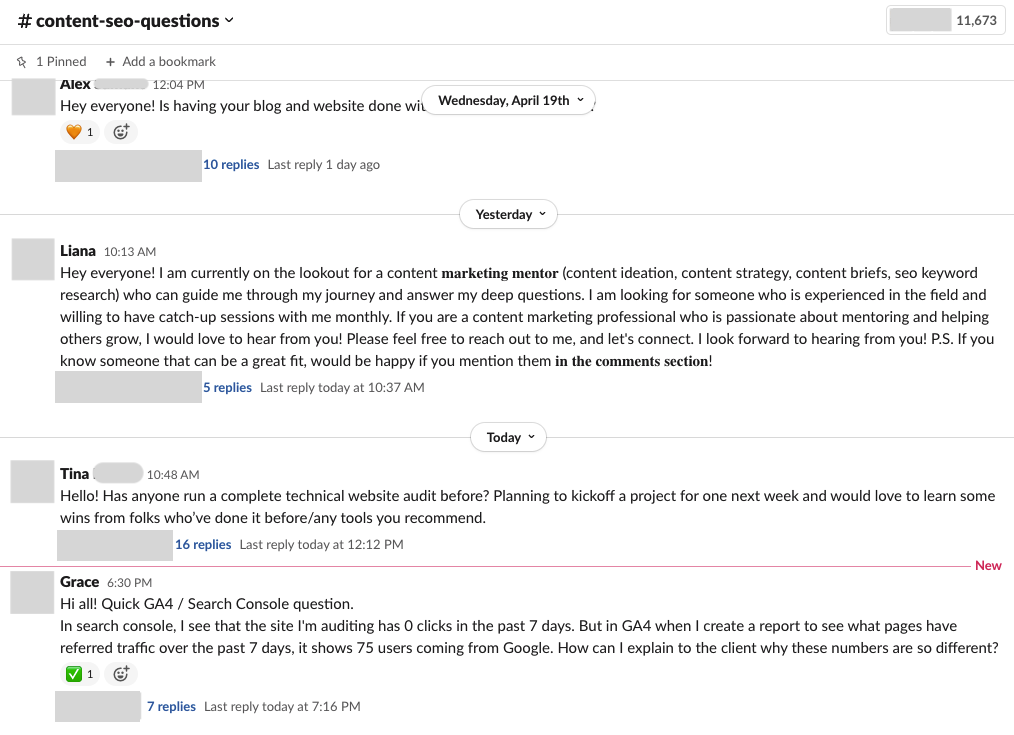 Conversations with experts can help you understand the industry better and provide valuable insights to help your campaigns.
Build a Portfolio 
Showcase your SEO work by building a portfolio of successful campaigns and projects. A strong portfolio demonstrates your expertise to potential clients or employers and gives them a better understanding of your skills and experience. 
Quantify your portfolio with data like "I increased a client's traffic by X% per month" for the best results. 
Include a variety of projects to showcase the breadth of your SEO skills. Add social proof like traffic reports, campaign results, or client testimonials to back up your work.
Become a Successful SEO Strategist with Semrush
As an SEO strategist, you'll need to know SEO best practices and how to apply them to create a comprehensive strategy that drives rankings, traffic, and conversions for clients.
Semrush's suite of SEO tools, from keyword research to competitor data, has everything you need to grow your skills and improve client results. Start a free trial today.
Denial of responsibility!
Search Engine Codex is an automatic aggregator of the all world's media. In each content, the hyperlink to the primary source is specified. All trademarks belong to their rightful owners, all materials to their authors. If you are the owner of the content and do not want us to publish your materials, please contact us by email –
[email protected]
. The content will be deleted within 24 hours.