In the second quarter of 2021, Facebook had 2.89 billion users. With nearly 3 million people navigating the platform, small- and medium-sized businesses (and their marketers) have the unique opportunity to capture the attention of large targeted audiences through paid Facebook ads. 
When done correctly, one particular type of ad — Facebook Carousel Ads — can transform images and videos into a dynamic touchpoint between prospective customers and your business. 
But, are Facebook Carousel Ads right for every business? If poorly executed, can they have a negative impact on your business? Are they worth the investment? In this article, we will walk you through these considerations, demonstrate how to set up a Facebook Carousel Ad, and show you a few helpful examples. 
What Are Facebook Carousel Ads? 
Facebook Carousel Ads are a type of dynamic, interactive ad that marketers can use to showcase between 2 and 10 pictures or videos (with links) in one ad space. On mobile platforms, users can scroll through the ad's slides with the swipe of a finger, and on a desktop platform, users can do a simple click left or right to navigate through the ad. These ads are designed to provide users with an organic experience akin to scrolling through a Facebook or Instagram story feed. 
Carousel Ads also appear in multiple locations across the Facebook platform, including (but not limited to), the standard Facebook feed, Stories, Audience Network, Marketplace, and Messenger — giving businesses additional saturation and exposure for their ads. 
Should You Use Facebook Carousel Ads for Your Business? 
Facebook Carousel Ads can contribute measurable value to your brand's inbound marketing strategy. However, there are some important questions to ask yourself and your team before you decide to invest in these types of paid ads:
Do you have the budget and creative resources to generate an ad that is likely to convert prospects into customers? In 2021, the average cost-per-click for Facebook ads (in most industries) was between $0.50 and $2.00.
Would a Carousel Ad be a good fit for your marketing strategy? If yes, why?
Have you identified your target audience and the problem(s) they are trying to solve?
Do you have quality images and/or videos of your products or services? 
"Carousel Ads give advertisers more flexibility to showcase their products than a single image or video ad. Advertisers can include reviews with related products, giving the user a better understanding before clicking.
For B2C advertisers, it's extremely important to get in front of users at the right time with the right products. With carousel ads and good audience targeting, advertisers can reach users with the right products every time."
How to Set Up an Eye-catching Facebook Carousel Ad 
If you are new to the Facebook platform — or social media advertising in general — it can feel intimidating to create a multi-slide paid ad campaign. Fortunately, Facebook has made the process of designing and implementing a Facebook Carousel Ad very simple. In fact, you can do it right from your business page.
1. Hit the "Promote" on your business page (located in the top right corner) 

2. Select "Create New Ad" 
3. From the Ads page that appears, hit "Select Media" and then upload or select the number of images/video you want to feature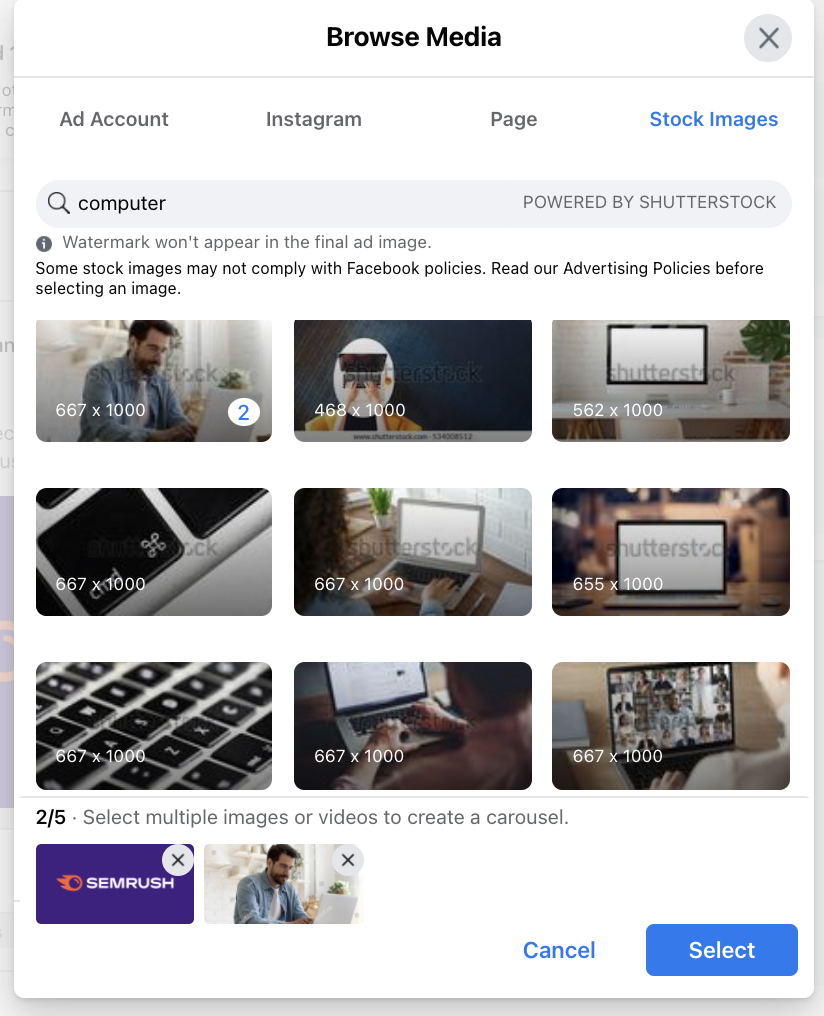 4. When you've got the correct number of slides selected, you can start adding your images and headlines for those images.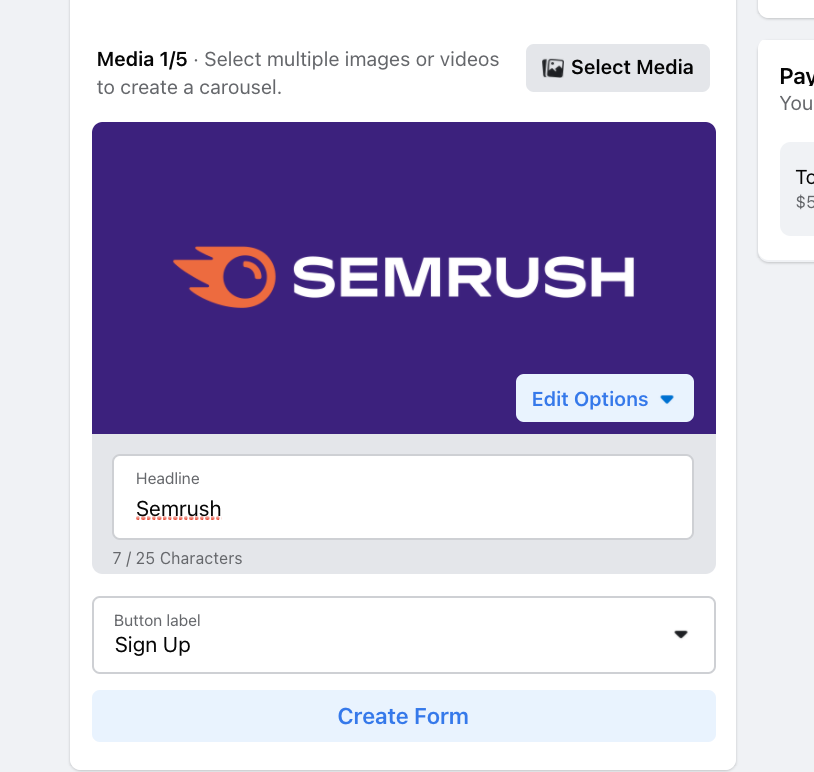 5. Polish the ad off by adding your audience, budget, and time frame in the appropriate boxes. 
6. Click "Promote" and your Carousel Ad will be live! 
Tips & Best Practices
In order to get the most out of your investment, you'll want to build the kind of advertisement that continues to drive traffic to your business page. The Facebook Business Center has some in-depth articles on how to optimize these ads. In the meantime, here are a few tips and best practices that will help get you started.
Facebook Carousel Ad Specs & Dimensions
Minimum 1080×1080 pixel dimensions
1:1 image/video ratio 
Minimum 600 pixel width and height (for traditional Carousel Ads)
Maximum image size: 30 MB; maximum video size: 4GB
Maximum video length: 240 minutes 
Know When Not to Use Them
Thanks to their spacious design and broad application across the Facebook platform, Facebook Carousel Advertising is appropriate for most businesses. However, there are a few cases where a Carousel Ad might be a waste of resources. Here are some things to consider before you buy ad space:
Do you need to pay more for additional ad space if you can use a compelling single-image ad to successfully attract customers? 
Have you identified your target audience and/or their concerns? 
Is your business's Facebook page fully built and optimized? If your business page doesn't have the information they need, Visitors from a Carousel Ad might click away and go elsewhere to spend their money. 
Do you have someone to manage the comments your business might get on the ad? 
Make Your Message Clear 
One of the few downsides to Facebook Carousel Ads is the potential to accidentally create a murky or confusing message. With so many ad slides at your disposal, it's possible to unintentionally alienate users through confusing visuals or convoluted text. 
If you're not sure whether your Carousel Ad is ready for prime time, we've included a few example ads just a bit further down the page that will give you a sense of what clear ad messaging looks like. 
Lean on Visual Space to Demonstrate Your Product
Carousel Ads are limited to 125 characters for text and 20 characters for link descriptions. If your product or service requires a lot of instructions, you may want to use multiple image slides to visually demonstrate the product. You could also create a video demonstration of your product. 
Use High Definition Video 
There's nothing less visually appealing than a grainy video. Carousel Ads are designed to capture users' attention quickly and keep them engaged with your content. For that reason, you should aim to post high-definition videos.
Feature Best-Selling Products First
It might seem obvious, but you'll want to make sure your top-performing products first. If there's even a small chance that your audience won't scroll past your first two ad slides, you'll want to move your show-stopping slides to the front of the ad. 
Engage With Your Audience
Facebook Carousel Ads give users the ability to comment and react directly to the ad. This can be a great place to answer product-related questions, address concerns, and share general information about your business. With Carousel Ads, you have the opportunity to reach an individual right at the beginning of their purchasing journey. 
If you plan on using multiple Carousel Ads, it can be a good idea to assign your social media manager, online reputation manager, or other staff member to address these ad comments in a timely fashion. 
How Do You Know if Your Facebook Carousel Ads Are Successful?
You can see how your Carousel Ads are performing right in Facebook's Ads Manager. You can even run custom reports to extract the exact data you're looking for by doing the following:
Navigate to the Ads Manager
Click "Columns" in the dropdown menu
Choose "Carousel Engagement"
To view results:
Click "Breakdown"
Click "By Action"
Choose "Carousel Card"
Another way to view results is to navigate to Ads Reporting. Find the "Customize Pivot Sidebar" and select "Metrics". Here, you'll be able to see the breakdown of your ads' results.
Three Stellar Facebook Carousel Ad Examples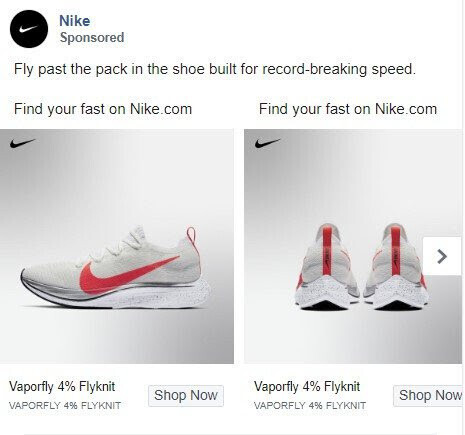 Nike
This Nike ad for Flyknit shoes does a number of things right. The text is short, informative, and catchy. The images showcase the sneakers by using a subtle background color, and the ad has multiple slides featuring several different angles on the shoes. 
In an age where online clothing returns and exchanges have become a huge headache for customers and retailers alike, allowing customers to get a 360-degree view of a product at the outset of their purchasing journey is a brilliant idea. This approach helps reduce unnecessary returns — a win for retailers, customers, and the planet.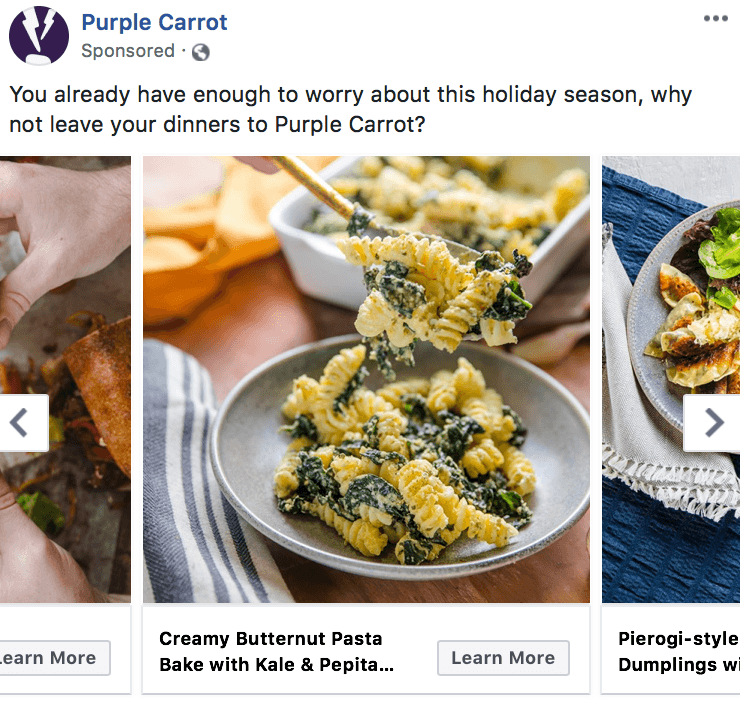 Purple Carrot 
Meal delivery services target busy people who are too tied up during the week to make meals from scratch. This Purple Carrot ad demonstrates the benefit of knowing your audience well — you can maximize ad image space because you don't need a ton of text to explain what you do. If you know your customers, you can streamline your message. 
The slides have high-quality images of real meals that come in a Purple Carrot box. The ad also lists some — but not all — of the recipe's ingredients, which encourages foodies to click that "Learn More" button.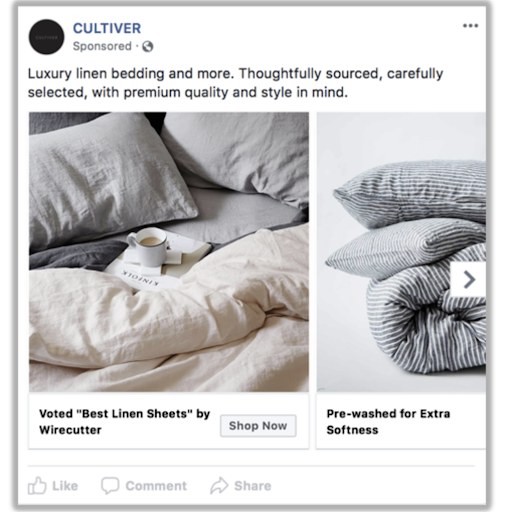 Cultiver
This example demonstrates how you can use the small amount of ad text space to say more about your product. Cultiver's ad has some eye-catching photography, but what's more impressive is that they speak to key product features without text-stuffing their slides. 
Final Thoughts 
Facebook Carousel Ads can be a great way to advertise your business, provided it makes sense for your audience and you follow best practices.
If you've decided after reading this article to press forward with Carousel Ads, remember these key takeaways: 
Facebook Carousel Ads allow you to showcase multiple images in one ad space.
Businesses that sell lots of products can benefit from the feature's ample ad real estate. 
The Carousel Ad feature can amplify a well-crafted product marketing campaign.
They can also lead to confusing messaging if there is no marketing strategy in place.
When used correctly, you may see a much lower cost-per-click rate.
To learn more about how to manage your social media strategy, take our Free Social Media Toolkit Course.
Denial of responsibility!
Search Engine Codex is an automatic aggregator of the all world's media. In each content, the hyperlink to the primary source is specified. All trademarks belong to their rightful owners, all materials to their authors. If you are the owner of the content and do not want us to publish your materials, please contact us by email –
[email protected]
. The content will be deleted within 24 hours.