Even if you know your audience, experiment with various marketing and communication tactics, and identify your best practices, your efforts can still produce poor results if you don't benchmark against and learn from your competition. 
This is where competitive analysis (a part of wider market research) becomes important. 
In this step-by-step guide, we'll walk you through an actionable workflow for conducting a competitor analysis, which should help you strengthen your marketing strategy.
What Is Competitor Analysis?
Competitor analysis (also known as competitive analysis) is the process of identifying and evaluating your competitors' strengths and weaknesses by analyzing their marketing strategies. 
By analyzing what others are doing, you can learn to avoid their mistakes, replicate their success, and stay one step ahead of the competition. 
Keep in mind that competitive analysis isn't about simply replicating your rivals' actions. Rather, it's about gathering enough information to take the guesswork out of your own marketing decisions. 
By uncovering what works for your rivals and what doesn't, and paying attention to how audiences react to various messaging, targeting, and other marketing techniques, you can avoid costly mistakes.
Done right, competitor analysis will accomplish the following:
Provide a better understanding of your industry and the competitive landscape
Help define your unique value proposition
Reveal actionable benchmarks for measuring your ups and downs
Unwrap rivals' success strategies and real audience needs 
Inform your overall marketing strategy, allowing you to maintain a competitive edge
We'll walk you through a competitor analysis, with examples, below.
How to Do a Competitor Analysis (Template Included)
Competitive analysis involves a few steps:
Find your online competitors (based on organic, paid, and local search)
Gather high-level information (basic company info, market share, and audience insights)
Identify your rivals' products, pricing, placement, and promotional strategies 
Analyze their communication strategy
Pinpoint best practices and benchmark yourself
Before we deep dive into each stage, we suggest keeping a record of all your findings. To keep it simple, we've created an easy-to-use template that follows our suggested competitive research workflow.
Get your free competitor analysis template.
1. Find Online Competitors
Before you can begin your analysis, you need to know who your competitors are. While this may seem obvious, there are different ways to think about your competition.
Essentially, there are three types of competitors:
Direct competitors: Brands that offer products or services that could easily pass for your product or service. Think of Apple iPhone vs. Samsung Galaxy.
Indirect competitors: Businesses that offer a product or service that is in the same category as yours and fulfills the same need, but is a different type of product or service. Think of the Apple iPhone and Samsung tablet.
Replacement competitors: Companies that offer products or services of a different type and category that your customer could choose instead of yours. Think of Kodak's traditional cameras and Apple iPhones' digital innovation. 
When we're thinking about identifying and analyzing competitors in a general sense, we may consider their market share, profits, or product pricing as benchmarks to consider. 
In the online realm, however, website traffic is the most important metric. Identifying and analyzing competitors in an online context is all about identifying companies that tackle similar audiences with similar searches. 
For a general overview of the main players in your market, you can start with the Market Explorer tool. Let's imagine we own Vrbo and want to run a competitive analysis to outsmart our competition. Enter the Vrbo URL and choose "find competitors" to see the full competitive landscape.

The graph visualizes the competitors' market positions, their current audience size, and the growth rate.
Market Explorer can serve as a first step in uncovering your competition. If you want to dig deeper, you can continue by exploring your competitors in different channels such as organic traffic, paid search, and local search. 
Finding organic competitors
Discovering who you're competing against for organic search traffic can help you better understand the market and compete for the top positions on search engines. 
To uncover your competitors in terms of organic search, you can use our Organic Research tool, which features a Competitors report.

The Competitive Positioning Map depicts the main competitors of the entered domain according to their number of organic keywords and organic traffic they receive. 
Returning to Vrbo, we can see that Airbnb remains the main competitor in terms of organic search. Airbnb ranks for 1 million more keywords and has double the monthly traffic. Vrbo might look to Airbnb's organic traffic strategy to learn a thing or two about increasing their numbers. 
And though the other websites rank for fewer keywords and garner less traffic, Vrbo.com may want to keep an eye on them to see if they gain ground in the future. 
Finding competitors in paid search
To identify brands Vrbo competes against in paid search, we'd turn to the Advertising Research tool. This tool provides insights based on keywords targeted via PPC campaigns. For products or services fit for PLA listings, you can use the PLA Research tool. 
The Advertising Research tool features a 'Competitors' report that displays a competitive positioning map.

To understand the competition, we can look at where companies are placed on the horizontal axis (number of keywords) and the size of the circles (domain's paid traffic). This reveals Airbnb and Trivago as the biggest competitors in terms of paid traffic.
Finding competitors in local search
In our case, Vrbo is a business that operates on a global scale and online, so we won't have many real rivals in local search. But travel companies like Thomas Cook, which runs brick and mortar locations, could pose some threats if they appeared alongside Vrbo during a search.
Generally, if you're looking to find rivals in local search, it's best to simply do a quick Google search (something like "best pizza in Boston"), or explore sites like Yelp, G2 (for software brands mainly), and other sites that serve as both category listings and review platforms.
You can also use the Competitors Discovery report in the Position Tracking tool to uncover domains based on specific city or state that compete with your site for organic traffic.

In this example, we set the location to Philadelphia, Pennsylvania. While some familiar competitors appear on this graph (Airbnb and Travelocity), we also discover some competitors that are specific to the city, like urhomeinphilly.com and phillyapartmentco.com. 
Pro tip: beating competition in local search may just be the most efficient first step to gaining a competitive advantage. So, if local search is important to your business, make sure to go through this guide on improving your local SEO.
2. Gather High-Level Information 
Before you dig into the nitty-gritty of marketing strategies and other info about each competitor, you have to understand where you stand in relation to each of them.
Define your standing by looking at: 
Market share
Company overview (basic company info and target markets)
Audience insights (the level of audience overlap with each competitor)
Explore market share benchmarks
The market share leader controls product pricing and influences how the market perceives the product. They hold a great deal of power. 
In the online space, market share can be determined by metrics other than sales numbers. For example, you could also use traffic numbers or active users to determine market share. 
Web traffic is an excellent way to help you identify who controls your space. You can then benchmark yourself against those rivals to measure your levels of competition.
Let's rerun the tool and create a custom market that includes our brand Vrbo and our four closest competitors: Booking, Expedia, Airbnb, and Trivago.
While all five domains take up significant market shares within the industry, Market Explorer's data reveals that we need a laser-focus on Expedia, Airbnb, and Booking for further competitive research. Trivago, on the other hand, may not be as important since their market share is markedly lower than the rest.
Study basic company info 
Sites like Crunchbase feature all the basic company info on most brands. Basic information about the company provides context that can be important when you begin to drill down into your analysis. 
For example, if you discover that one of your competitors has only been around for a couple of years and has half of the number of employees of a competitor and has raised millions in funding rounds, this company may be a bigger threat than the larger established company. 
Beyond the basics, gather information on the company's:
Founding date 
Number of employees
Annual turnover
Office locations
Number of clients/customers
Traffic Analytics and Market Explorer feature all the key stats from Crunchbase but also come with additional insights.

What Markets Do Your Competitors Operate In?
Knowing where your competitors operate can uncover new opportunities in potential markets that you might not have considered.
To research your competitors' key target markets, view the Geo Distribution tab under the Traffic Analytics tool. For this example, we entered Booking.com to see where their site visitors are located. 
Interestingly, traffic to Booking.com from Italy is just as significant as traffic coming from the US. This discovery could be crucial for Vrbo, which predominantly focuses on the US Market. If they were looking to expand, the Italian market would be a great option to explore. 
Gathering audience insights 
For high-level audience insights, you can start with the Market Explorer tool, which shows all the basic demographics info about your in-market audience.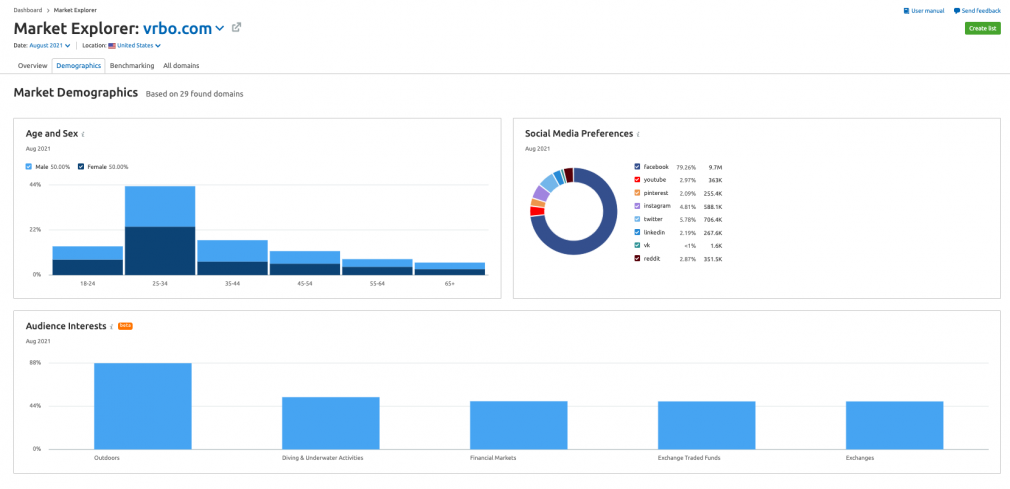 You can use demographics data to make informed decisions about where to market your products, how to speak to your audience, and how to address their desires and needs. 
For example, We can see that the largest demographic for Vrbo and it's competitors are men and women between the ages of 25 and 34. We can also see that the audience enjoys the outdoors. 
Why might this be useful? Well, we can create marketing materials that speak the language of this demographic and place our ads in spaces where this demographic spends their time. 
When further determining your closest rivals, look for overlaps between your audience and your competitor to see where you directly compete and what you could do better to gain more market share.
The Traffic Analytics tool's Audience Overlap graph allows you to stack your audience against that of your direct competitors to view the size of different rival's audiences, and also how much overlap exists between different rivals' audiences. 
Here, we entered Vrbo.com, Booking.com, and Airbnb.com. The data shows that Booking.com has a huge audience of 203 million unique visitors, much larger than Vrbo (28M) and Airbnb (33M). We can also see that Vrbo and Airbnb have some audience overlap with Booking.com. Interestingly, Airbnb's overlap with Booking.com is larger than Vrbo's by 2.5 million users. 
With this information, we might consider why Airbnb shares a larger number of visitors with Booking.com than we do. Do they have a partnership, are they advertising on Booking.com, is it simple brand awareness? And understanding that booking.com has a massive audience that isn't shared with Vrbo or Airbnb, we might set out to increase our shared audience and capture some of the audience going to Airbnb. 
Next, using the Traffic Journey and Traffic Sources tools, you can view what websites Airbnb site visitors come from and where those visitors go after leaving.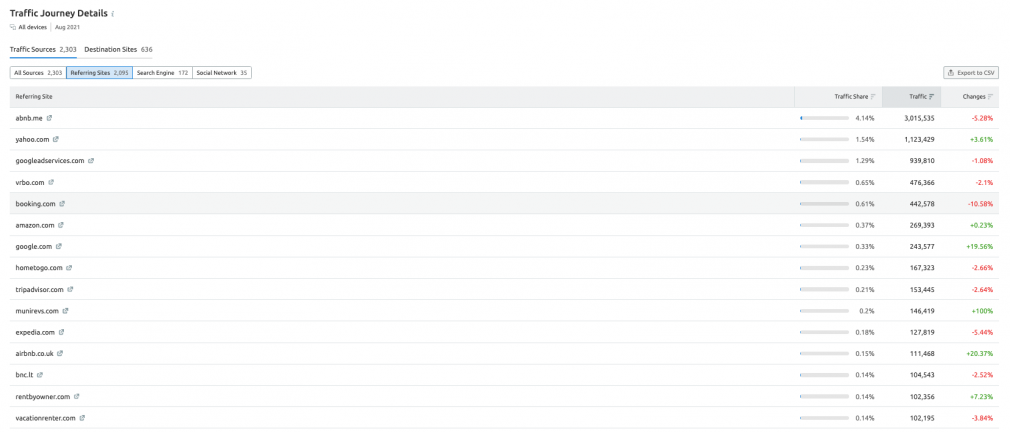 This information can help you get a sense of how your target audience is finding your competitors, where else they're looking for products or services, and what other companies may be collecting some of their customers. 
Once you have all the preliminary competitive insights, it's time to get to "the 4 Ps" of marketing: product, pricing, placement, and promotion. Exploring these 4 aspects of your competitors will give you a deeper understanding of their marketing strategy. 
Identifying competitors' top products & services
Differences between products can make direct comparisons difficult. So, just note all the features of your competitors' products as this can help to highlight any areas of opportunity.
Here are a few starting questions to ask about your competitors: 
Are their existing products successful?
Do they have established products that are market leaders?
Are they heavily investing in launching new products?
Are they phasing out or discounting any products?
Next, take your list of competitors and start a deep-dive on each of them. 
In this case, try some manual research through their sites to explore:
All of their products and services, and their pricing strategies.
Any sales or discounts (regularly monitor your competitors to track seasonal products and price changes).
Additional strategies like referral schemes, free trial offers, and extra perks (think free shipping, free returns, and member discounts).
Your rivals may feature hundreds of products and services, though there's a good chance a small number of them serve as real audience drivers. To identify your rivals' most prominent products, it's useful to turn to traffic insights coming from the Traffic Analytics tool.
Using intel from the Top Pages report, you can pinpoint the most visited pages of any site. The popularity of a given page can, directly and indirectly, point you to the products and services that drive the biggest audience traction.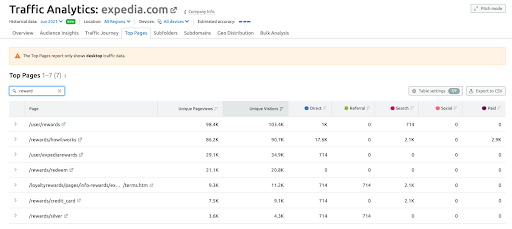 Expedia's rewards program drives around 0.5% of the company's audience share. Given tens of millions of monthly visits, this is an impressive product.
Using this data, Vrbo could take a look at Expedia's rewards terms to give a comparable or even better offer to its customers.
Checking your rivals' pricing strategies 
You can begin your pricing research with a simple browse-through of your rival's site. Furthermore, you can check your findings and take a deeper dive on pricing and special offers using the Advertising Research tool.
Simply drop in a competitor's domain, and the tool will return any paid Google Ads campaigns. If you look through the ads, you can uncover pricing, discounts, special offers, and sales.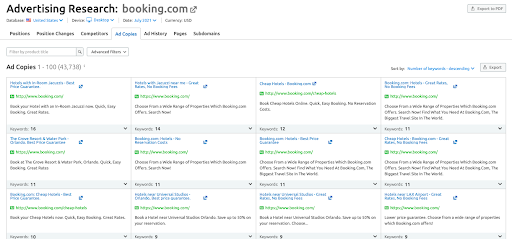 We can immediately spot that Booking.com emphasizes the best price guarantee, no cancellation fees, and no reservation costs in pretty much every ad.
Dissecting competitors' promotional strategies 
By looking at the different channels that drive traffic to your rivals, you can make assumptions about your competitors' strategies. From there, you can use these insights to inform your own promotional efforts.
Here are the 5 main traffic channels and what they can teach you: 
Direct — Your competitor is conducting offline marketing or has strong brand awareness as users already know the brand name to navigate to their site directly.
Referral — Your competitor is paying for prominence on other sites (banner ads), investing in digital PR for brand mentions and links on other sites, investing in content posted on other platforms, or running cross-promotional campaigns.
Search — Your competitor is investing in on-page technical SEO, keyword/content strategy, and most likely link building.
Social — your competitor is active on social media.
Paid — your competitor is spending budget on paid advertising, most likely from Google Search Ads. 
The Market Explorer allows you to create a custom market comparison chart that shows the overall traffic generation within a select market.
We can see that direct dominates the traffic landscape within our niche, with referral coming in second.This information can help determine whether we're focusing our efforts in the right places. 
We can also compare traffic sources among competitors to see where we might be able to capture some of their traffic. For example, it looks like Booking.com is having the most success with referral traffic. We might look deeper into their referral strategy to see how we can improve our own. 
The Top Pages report within Traffic Analytics doesn't just reveal the top pages and services, it also allows you to take a glimpse at the most traffic-driving content and campaigns of a competing brand.
Airbnb's " Live Anywhere on Airbnb" campaign, which offered free year-long worldwide Airbnb stays to 12 individuals, drove around 40K unique visitors to the brand's site.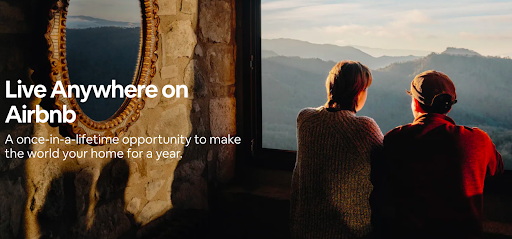 This is the kind of thing you might miss with manual research.
As promotional tactics are ever-changing, keeping watch on all the shifts and changes is crucial. This post shows how to keep your finger on the pulse without allocating too much time to competitor scouting. 
Placement in an Online Market
Placement is crucial when it comes to marketing online. With Google Ads, as well as other search engines and many social media platforms, you can target your placements to appear where you want them, get them in front of a target audience, and decide how much you want to bid for exposure in certain places. 
To make informed decisions about where to make placements, you can return to the Traffic Analytics' Traffic Journey Details report.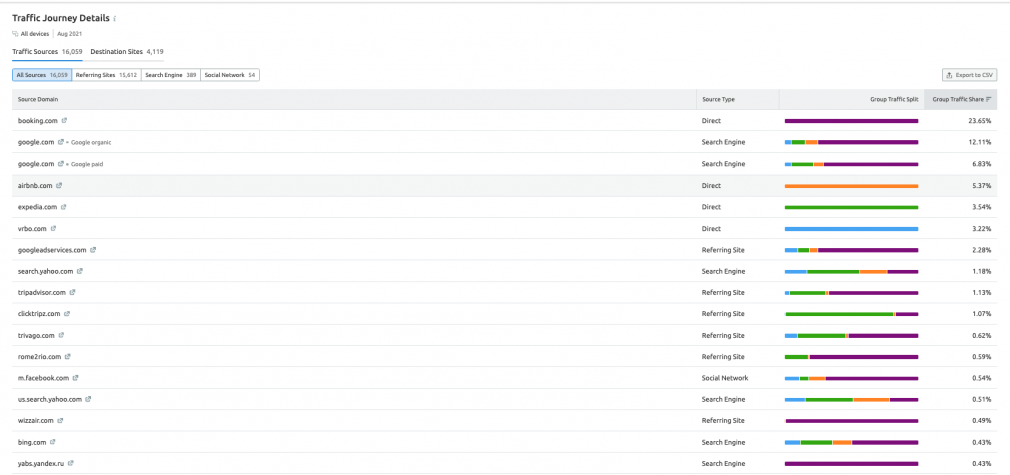 We've set the report to show us "traffic sources", which shows us where traffic comes from. 
Using this report, we can see where our competitors are gaining their traffic. For example, if we zoom in, we can see that 3.4M people went from Rome2Rio.com to booking.com, while 3.8K went to Airbnb, and none went to Vrbo. 
With this information, Vrbo might look to Rome2rio.com as a place to advertise. We can see that they are a popular referring site to one of our main competitors, and some visitors are also going to Airbnb, indicating a shared interest and a possible opportunity to gain some of the traffic already going to our competitors. 
4. Analyze Competitors' Communication Approaches
From the ad copy above, you can start your journey towards revealing your competitors' communication approaches.
Observing the general tone of voice across their ads, blog, social media, and other channels, pay special attention to:
The words they use
The message they project
Sentiment and emotion
The reading level
Imagery used
All these aspects of the brand's voice contribute to the brand's communication strategy, so it's useful to study them before you go on to define or adjust your own. 
5. Pinpoint Best Practices and Benchmark Yourself 
Though we recommend adding all the newly gathered information into the template as you go, make sure to double-check that you've filled in all the blank spaces before moving forward.
Get your free competitor analysis template.
You did? Great! Now that you have a comprehensive spreadsheet full of competitive intel, it's time to turn it into actionable insights.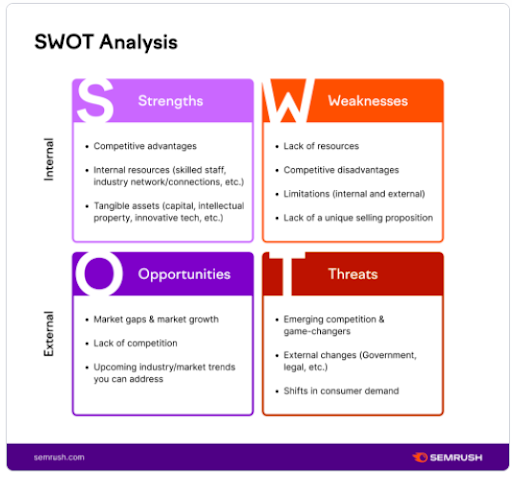 From a simple SWOT analysis to a more sophisticated and thorough Porter's Five Forces Model, you can use various approaches to consolidate all the information and create an action plan.
Navigate to this post to learn more about the most commonly used competitive analysis frameworks and tools that will help with competitor research overall.
Last but not least, schedule times to revisit your analysis regularly and update the information quarterly, or even monthly depending on your industry. Because in the fast-paced digital world, you will always have to watch out for that up-and-coming competitor or a new game-changing tactic.
Denial of responsibility!
Search Engine Codex is an automatic aggregator of the all world's media. In each content, the hyperlink to the primary source is specified. All trademarks belong to their rightful owners, all materials to their authors. If you are the owner of the content and do not want us to publish your materials, please contact us by email –
[email protected]
. The content will be deleted within 24 hours.