Whether you're a SEO professional or enthusiast, you can benefit from using Google's advanced search operators. Learning how to run an advanced search effectively can help you navigate Google search thoroughly and improve your link-building strategy. 
What Is Google Advanced Search?
Google advanced search uses special search operators to narrow down your search results. You can use search operators to filter results by domain, specific phrase, or more. 
Whatever you're looking for, Google search operators can help you find it faster. Once you learn how they work, they're easy to use. 
How to Run an Advanced Search On Google 
To use the advanced search feature on Google, all you need to do is add a search operator in front of your usual search query. 
For example, if you want to read about the latest series of The Great British Bake Off but only want to see articles from BBC.com, you can use an operator to narrow down search results to only those that are relevant to your keyword ("The Great British Bake Off") and featured on your target site ("bbc.com"
Here's what you'd enter into Google: 
In this example, "site:" is the search operator. There are plenty of search operators you can use on Google. 
How to Use Advanced Search On Google for Link Building
Google advanced search is often used by marketers to support content marketing, SEO, and competitor research goals. Though they're not generally used to boost link-building strategies, they should be! 
There are a number of advanced search operators that can help you build a link-building strategy or campaign.
Google advanced search can:
Check the relevancy of a website 
Find guest posts
Find resource lists
Find links to your website
Find internal linking opportunities
1. Check the Relevancy of a Website
Ideally, your backlinks should come from a site that is in the same industry or about the same topic as yours. The more relevant the site is to yours, the more impact the backlink can have. Aim to vet sites before including them in your backlink strategy. 
Use the "site:" operator to search websites for relevant keywords and topics. To use this operator: 
Type "site: www.prospectdomain.com" into Google search bar (use the domain of the target site.) 

Review the number of results. 
Add your industry or topic after your query in the search bar (e.g. "site: www.fender.com guitars")
Review the number of results now. 
Calculate the ratio of the second number to the first number. 
If the percentage is 60% or above, you may have a relevant prospect.
Although this is not a complete vetting process, it can help eliminate irrelevant sites. However, we still recommend that you thoroughly vet all of your link prospects with a link-building tool.
2. Find Guest Posts
Guest posts can still be a decent link-building strategy. You'll just need to ensure your post is relevant by finding websites with high domain authority that accept blog posts. 
You can find such websites using exact match operator (" "). You use this operator to only see "exact match" results that feature your target keyword or phrase.
To use this operator:
Type your topic in " " into the search bar (e.g. "guitars")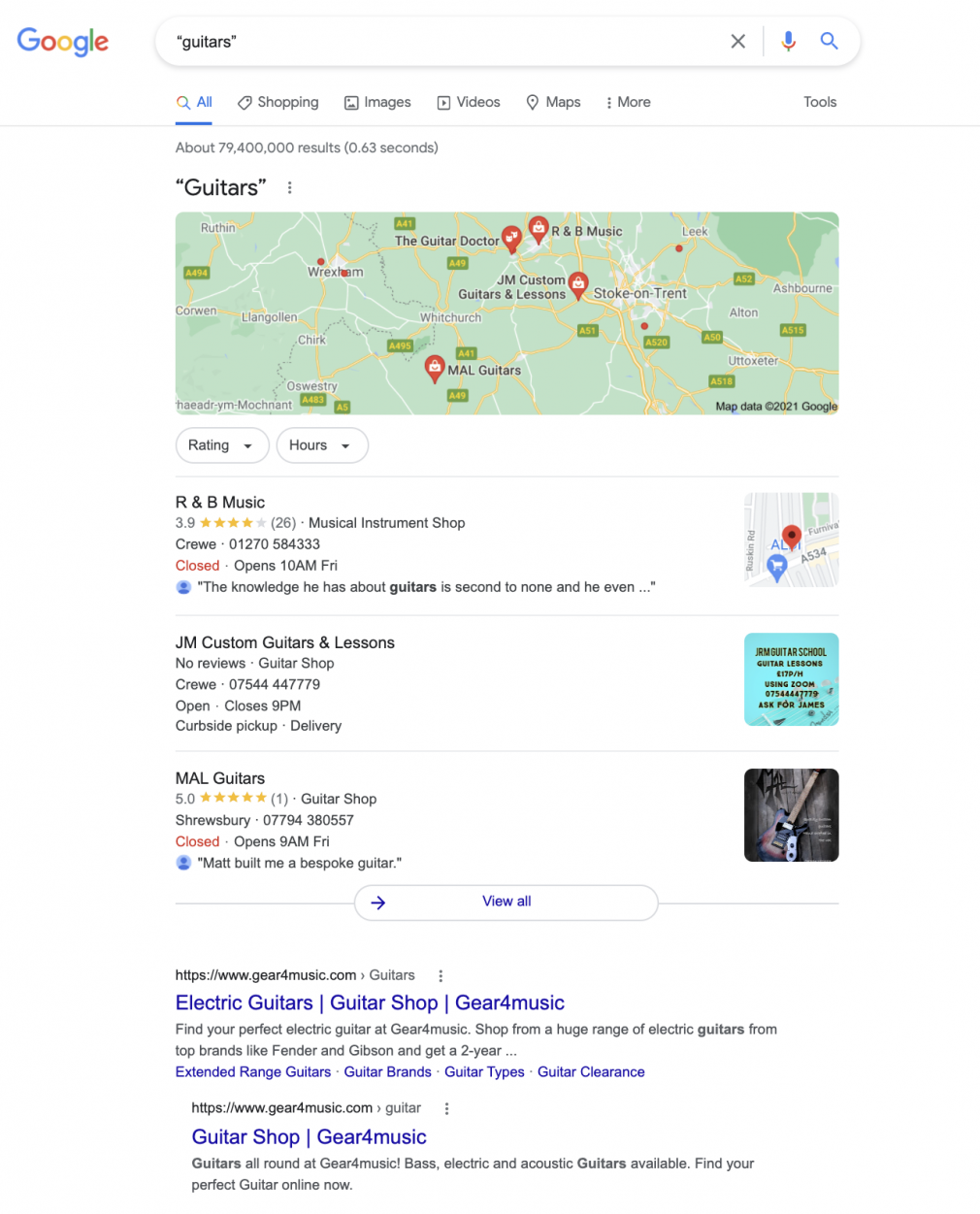 Trial different commands next to your topic, like "write for us" become a contributor. 
Using the exact match operator will only return results that include your query as it appears in your search bar. 
3. Find Resource Lists
A quick way to generate backlinks is to add your website to resource lists. Resource lists link to other websites that provide valuable resources and information to readers. 
To feature these websites in one of these lists, you'll need to be able to find a relevant resource list and contact the writer or website. You can find resource lists with the exact match search operator. 
Type your topic into Google search bar in " " (e.g. "guitars")
Use the "inurl:" operator to find pages that feature your keyword in their URLs. In this example, we use the search operator to find websites that have "guitar" and "resources" in their URLs:

From here you can reach out to the websites in your Google results to be added to their resource list. However, bear in mind that you will need to have a useful and relevant resource for this outreach to work. 
4. Find Competitor Links
Part of your backlink strategy should include monitoring your competitors' backlinks. Keeping an eye on your competitors can help you identify link opportunities for your own site and indicate where your competitors are focusing their link-building efforts. 
You can use the "link:" search operator to find your competitor's backlinks. 
Type "link:" followed by your competitor's domain into Google search bar (e.g. "link: www.gibson.com")
Remove the homepage from your results by adding "-gibson.com" in the search bar (e.g. "link: www.gibson.com -gibson.com")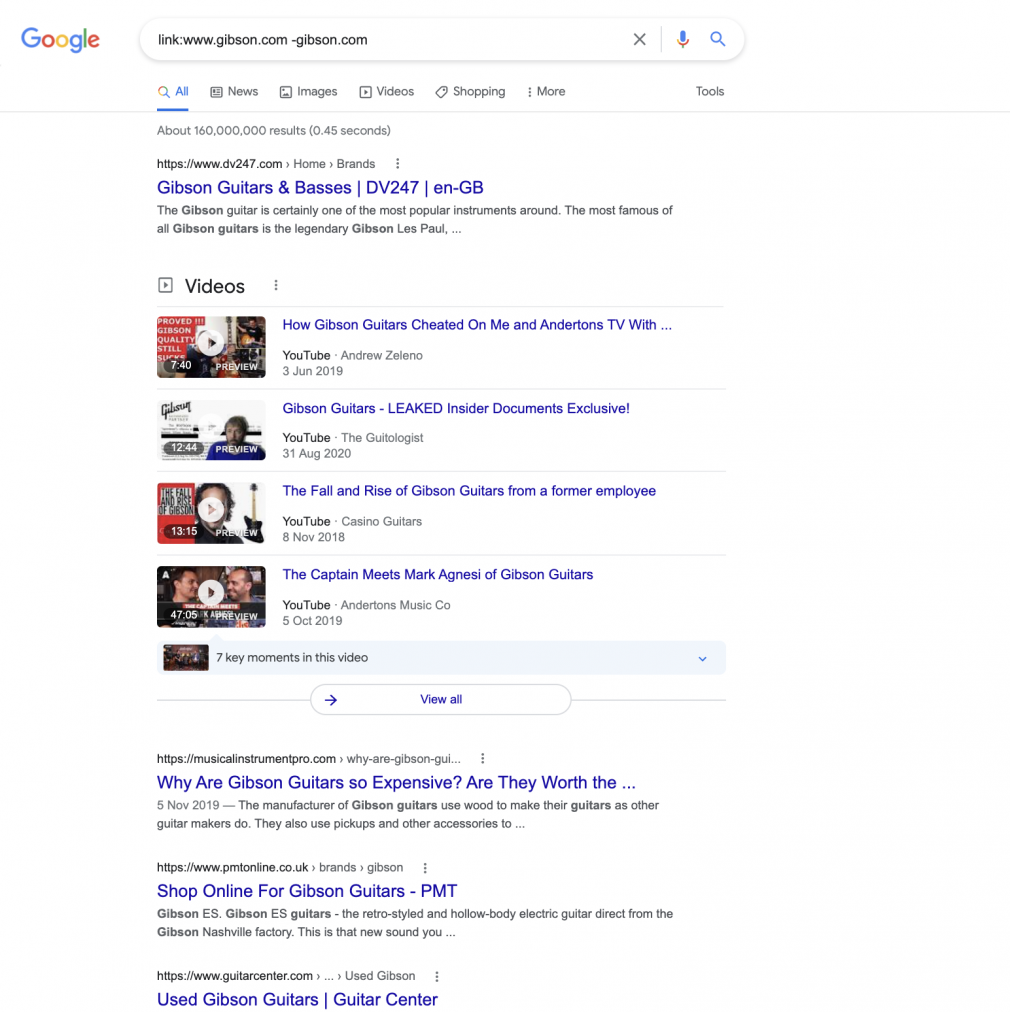 You may find that step 1 does not return relevant results. Step 2 is more useful because it will return all backlinks to every page on your competitor's site except the homepage. 
If you want a reliable view of all links on your competitor's site including the homepage, a third-party tool like the Backlink Analytics tool can identify all links to your competitor's site, including spam and toxic links. 
5. Find internal linking opportunities
Internal links aren't necessarily part of a backlink strategy, but they are an important part of your overall link architecture. While you're earning quality backlinks, make sure your internal linking structure is solid to pass any "link juice" through your site. 
You can use Google advanced search to find ways to improve your internal linking by finding pages that mention the same topic.
Type the "site:" operator with a domain into the Google search bar (e.g. "site: www.fender.com")
Add the "intext:" operator and a topic (e.g. "site: www.fender.com intext: "les paul junior")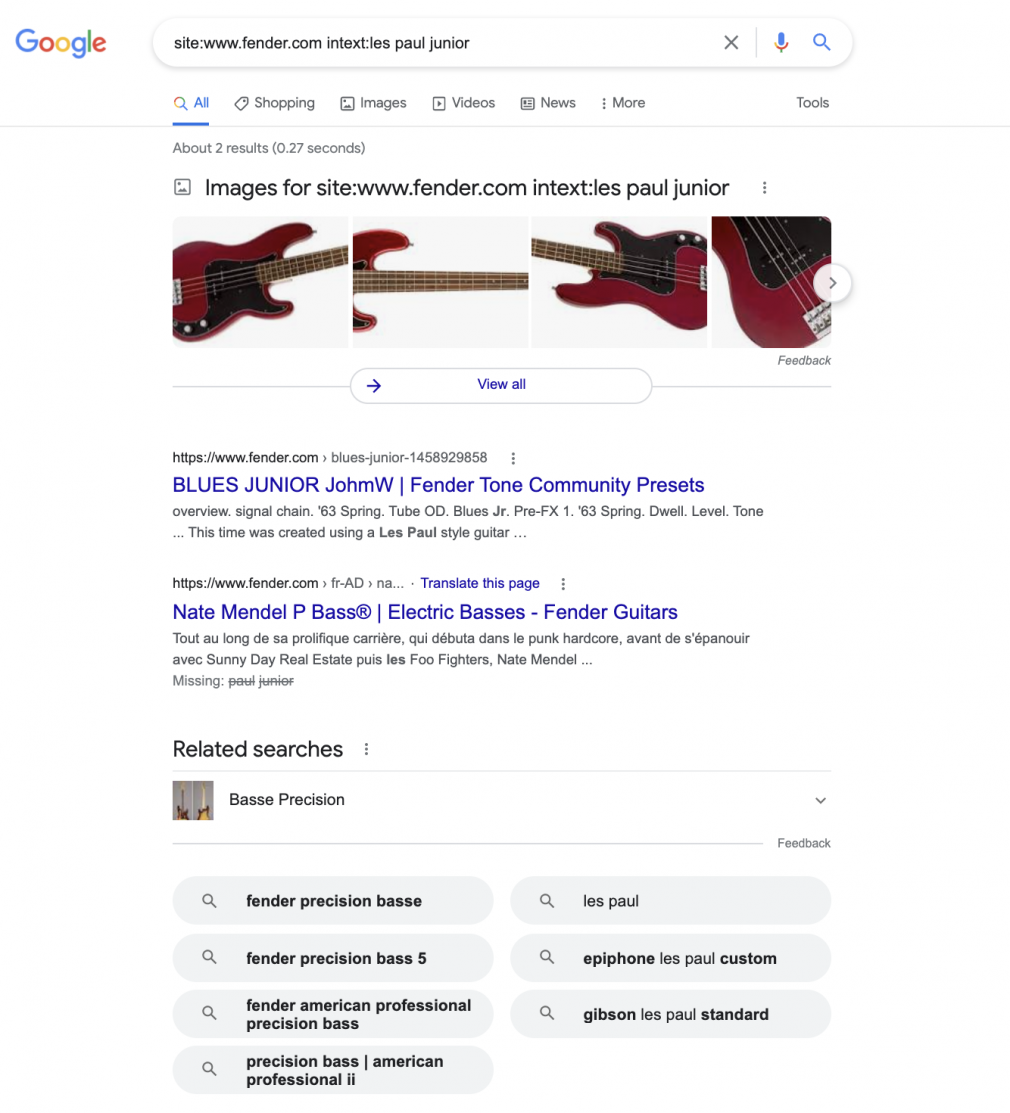 Google returns any pages on your site that mention your topic in its content. Link these pages together to increase your internal linking profile.
Check the status of your internal links to ensure your linking profile stays intact. Site auditing tools can indicate the health of your internal linking structure and identify any links that need fixing. 
You can use Google's advanced search operators in the Link Building tool to generate better link-building prospects. The tool automatically suggests prospects based on the keywords, competitors, linking brand mentions or prospects you enter.
To make your keyword-based link building more relevant, you can use advanced search operators in the tool's configuration process:

Open the Prospects tab in the Link Building tool.
Select Keywords, and click Add.

The tool opens a modal window where you can view your existing keywords. You'll be able to edit these keywords or add new ones. Select the Advanced Search Query toggle to use search operators:
Summary
Google advanced search operators can help you specify your searches so you always receive the most useful results. Try combining multiple search operators to narrow your search results even further. 
In the Link Building tool, you can use advanced search operators to modify your keywords and find better opportunities. 
Build Backlinks Easily
with the Link Building Tool
Denial of responsibility!
Search Engine Codex is an automatic aggregator of the all world's media. In each content, the hyperlink to the primary source is specified. All trademarks belong to their rightful owners, all materials to their authors. If you are the owner of the content and do not want us to publish your materials, please contact us by email –
[email protected]
. The content will be deleted within 24 hours.