Digital marketers and SEO pros are always generous with knowledge and expertise-sharing. But it's one thing to read a blog or watch a video about SEO. It's another thing to see real SEO experts offer actionable and specific advice on an actual site. 
We thought so too. 
In this first episode of our "SEO Clinic" series, we have 5 local SEO experts sharing their advice on how a given site can amplify its organic presence across the local search. 
If you deal with local SEO and manage a local website, watch the videos below to learn how to:
Optimize your site for local search.
Run a full Google My Business audit.
Build a local SEO strategy using insights from brand SERPs.
Unwrap untapped content opportunities by analyzing competitors' local keywords portfolio.
Let's go! 
About the Site
We've had numerous review requests from businesses that have had a long-standing offline presence but are struggling with extending their offline authority to local search. 
We've picked JSK, a New York-based acupuncture clinic, to run a full local SEO audit of their website —  https://www.jskacupuncture.com/.
Here's a quick overview of how JSK's site performance looked prior to the reviews.
JSK's Organic Presence
Using insights from various Semrush tools, our experts got the following picture:
JSK only ranks for 13 keywords, with almost half of them indicating branded search, and the other half clearly pointing at local intent (search terms that include zip codes, New York, etc.).
Although JSK does have some rankings, its average SERP position is 44, meaning its website rarely comes up earlier than the fourth page of search results. 
JSK's monthly traffic is barely ever going above zero, with some spikes during February and July 2021.
 As for local search specifics, JSK doesn't win any local packs.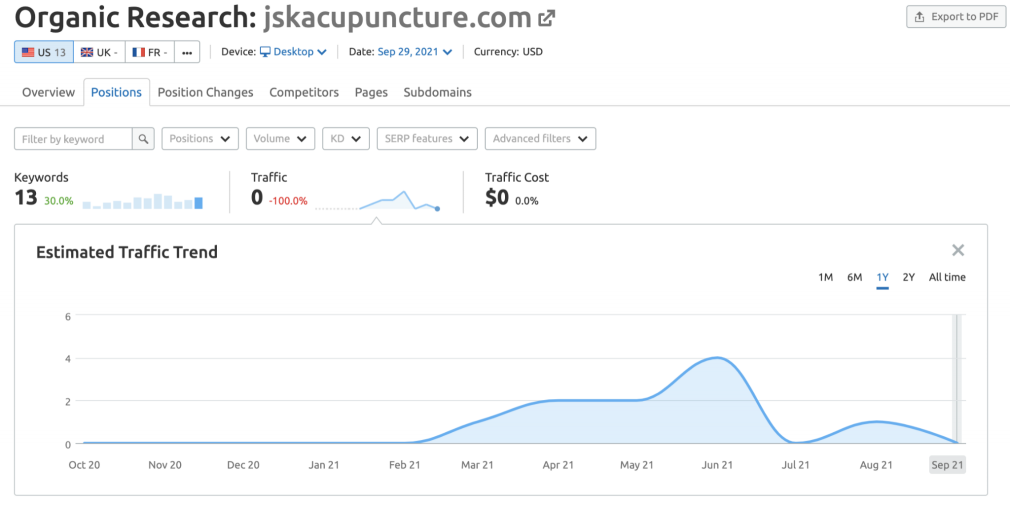 This weak visibility and performance across organic search could be potentially linked back to issues with the website. So our experts used the Site Audit tool to assess how JSK's website was doing in terms of site health.
JSK's Site Health
JSK's site health is at 87%, which is typically considered a good score. Being a small website that only has 6 pages, JSK doesn't have that much space for errors. But the biggest problem with the site is that it doesn't have much content, so there is not much for Google to work with and rank.
In terms of notable and impactful issues, JSK's site does have a few errors that should be fixed:
6 invalid structured data items;
4 duplicate title tags (they don't have many pages so this implies that almost all the site's pages come with the same metadata);
Unminified JavaScript and CSS file (harder to fix as JSK's site is run on Squarespace so they have less control over these issues);
6 pages with low text-to-HTML ratio and low word count.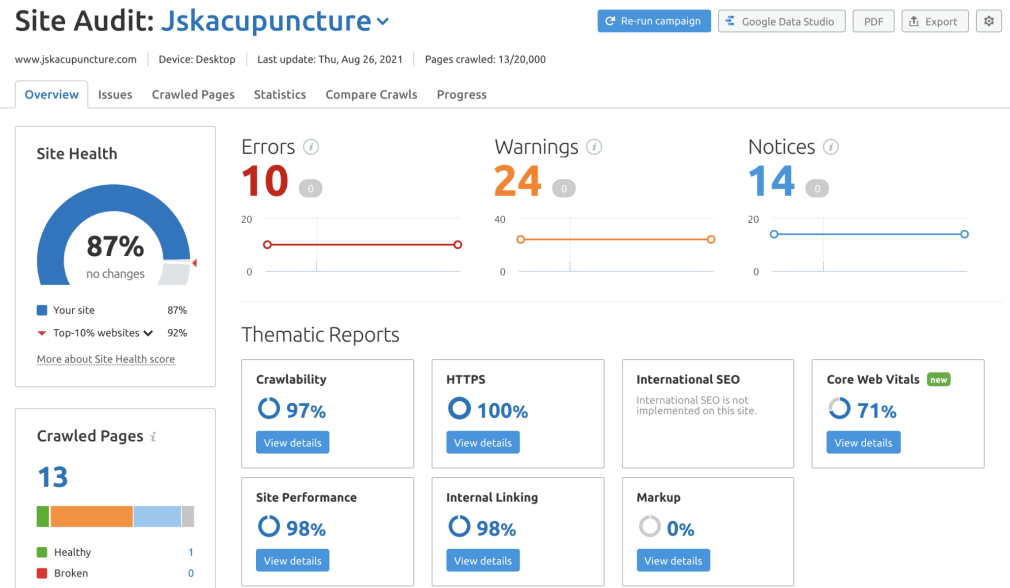 Maximizing Your Site's Visibility Across Local Search: 5 Approaches from 5 Leading Local SEO Experts
Using these preliminary insights, our five local SEO experts reviewed JSK's site in regard to local SEO and shared their ideas on how JSK could run small tweaks to make improvements to its site's presence across the local search.
Without any further ado, let's dive right in!
#1. Quick Tweaks That Can Improve Your Local SEO Results by Peter Mead, an Independent SEO Consultant
Armed with insights from Semrush's Site Audit tool and an overall website review, Peter Mead shares some achievable and effective pointers that can make a big difference to JSK's local presence.
Watch the video below to see Peter show how to:
Check the overall site health, making sure you get rid of big issues that might impact your overall and local search performance.
Make the website more local-centric by adding a more descriptive contacts page (mentioning directions, subway proximity, etc.) and embedding a Google map right into the site. 
Boost your E-A-T score by filling the site with more content (e.g. an elaborate services page).
Send more local signals to Google (and users) by adding a phone number on Google My Business and having the key contact info points (business name, address, and phone number) at the footer of the page. This should help visitors (and Google) understand that you're a location-specific business and can be relevant for their search query.

Connect with Peter Mead on Twitter. 
#2. How to Run a Google My Business Audit by Ben Fischer, Founder at Steady Demand 
Ben Fischer runs a 360° review of JSK's Google My Business listing to pinpoint spaces for improvement.
Ben gives some effective tips on how JSK could amplify its presence within the local pack and GMB:
Add more images to Google My Business, including customer interactions, storefront, logo, etc. This adds up authority and trustworthiness to your listing, helping users make the decision to contact you or even book your service.
Always respond to customer reviews — this shows courtesy and helps customers-to-be understand that your business is up and running.
Make sure to add UTM parameters to any links coming from GMB (website, booking, etc). If you see a lot of people visiting your site from the listing, you can make better-informed marketing decisions (e.g. decide whether to invest in better photos or not).
Never leave a blank field within your GMB listing: do mention if you offer insurance, have a parking space, or wheelchair-accessible entrance. And definitely add an FAQ that tackles some of the top questions asked around your area of service.
Take a look at the video below to get even more tips for local search success — from how to leverage GMB's posts space to bring in new customers to using Semrush's Organic Research tool to uncover untapped local-specific keyword opportunities.
Connect with Ben Fischer on Twitter. 
#3. Building a Local SEO Strategy From the Brand SERP Outwards by Jason Barnard, the Brand SERP Guy at Kalicube
Jason Barnard takes a look and analyzes JSK's brand SERP to show how the clinic can enhance its overall digital strategy which should also bring improvements to its presence in local search.
Some of Jason's top tips on ways to enrich your brand SERP and positively affect a local business's organic presence are:
Don't disregard your presence across other review platforms. If your website doesn't come with much content — just like JSK's — pay attention to how you look across these platforms, as they tend to come up on the first pages of the search results. 
Add rich site links to help users navigate through your website more easily and direct them exactly where they intend to land (contact page, services page, etc.). 
Try to fill up as much SERP real estate as you can — by adding site links, having enough content to rank, and being present across social media (especially YouTube with its video boxes).
Tune in to the video below to also see Jason use Semrush's Position Tracking tool to review JSK's current rankings and pinpoint the wrong focus in its keyword strategy.

Connect with Jason Barnard on Twitter. 
#4. How to Improve Content Through Competitor Analysis by Amanda Jordan, Director of Local Search at Locomotive Agency
As JSK's site doesn't have much content, Amanda Jordan takes a look at its competitors to see how JSK can discover some untapped keyword and content opportunities. 
In the video below, Amanda reveals how to:
Find new ideas for content creation by using the Keyword Gap tool that reveals which keywords JSK could (and should) target based on competitors' keyword strategy.
Get actionable insights from competitors' content analysis, highlighting some of the top things to look at (meta tags, trust signals, local identifiers throughout the website, etc.).
Implement on-page improvements to go from having a website that only tackles branded search to a site that targets user intent.

Connect with Amanda Jordan on Twitter. 
#5. How to Optimize Your Site For Local Search by Carrie Hill, Local SEO Analyst at Sterling Sky
By running a quick website audit, keyword research, competitor research, and overall SERP review, Carrie Hill gives advice on how few on-page, local SEO, and content tweaks can help JSK improve its local rankings. 
The video below unwraps Carrie's tips on how to:
Add more local signals to the main page (add more specific location identifiers — not just New York, but certain neighborhoods and radius areas JSK's business can serve).
Enrich the website with more content by tackling related searches. The more content you add to the website, the more space you have to swoop in location references that are important to search engines.
Go smarter about competitive analysis by understanding the difference between organic and local search. Start with reviewing rivals that rank high in the local pack, and only then move on to competitors that beat you in organic search.

Connect with Carrie Hill on Twitter. 
Over to You
Our experts' local SEO recommendations were insightful but JSK-specific. So they only touched upon local search tips that were applicable to the industry and the overall landscape JSK is in.
As you can see, even the smallest changes can already get your site going towards better performance in local search, but all the advice highlighted here is only the tip of the iceberg.
If you want to learn more about local search and maximize your local SEO efforts, make sure to go through the following posts:
If you're new to the topic, this post covers all the local SEO basics, introducing you to the world of local search.
This post reveals the top 11 solutions for having a successful local presence across the web.
Use this ultimate local SEO checklist to ensure you're doing the best you can to get better rankings, manage your online reputation, and amplify your customer acquisition strategy.
We hope the first episode of our "SEO Clinic" series came in useful and encouraged you to set up or revisit your local SEO success strategies. 
Make sure to stay tuned to our blog as there are more "SEO Clinic" episodes to come, each dedicated to various aspects of your visibility strategy. 
*Disclaimer: All the local search tips our experts shared in this post are only suggestions. Each site's performance and opportunities heavily depend on the market, the competition, and other factors, so don't simply follow these recommendations without taking a more nuanced approach to your digital strategy.
Denial of responsibility!
Search Engine Codex is an automatic aggregator of the all world's media. In each content, the hyperlink to the primary source is specified. All trademarks belong to their rightful owners, all materials to their authors. If you are the owner of the content and do not want us to publish your materials, please contact us by email –
[email protected]
. The content will be deleted within 24 hours.