Intro
In the last episode of our SEO Reality Show, we shared how an agency grew a local artisan bakery's SEO traffic by 214% in just 4 months. Although optimizations are still in the process of being implemented, the agency and Edelweiss have moved forward in their collaboration to start the bakery's blog. 
If you're wondering if your business really needs a blog, or you're unsure how to get started, keep reading. We'll show you how our partner agency found engaging, potentially high-converting topics for Edelweiss bakery to help them attract more of their target audience. 
How Blogs Can Help Businesses 
Content marketing — which typically centers around blog posts — can play an essential role in helping you to attract and convert more customers. This is true for several reasons:
It can help you get more backlinks to your site, as third-party sites rarely place links to commercial pages but are more likely to link to valuable content. High-quality content can help solve their reader's problems.
Strong content can increase positive performance ranking factors that Google may use to influence the SERP results. This includes the amount of time spent on a page by a user and the number of pages viewed during a session. User behavior is an important factor to consider when it comes to SEO. 
You can rank for more keywords in your niche. The more relevant semantic keywords you're ranking for, the better the chance you have to capture users in your target audience. 
The Process
Edelweiss's site didn't have a blog when they started working with the agency, but the agency recommended having one to increase organic traffic. The agency and Edelweiss then worked together to determine what types of content the bakery's blog should create. 
Read on to learn what steps the agency took to help Edelweiss find relevant, high-value topics for their blog. 
Challenge: find blog topics which have both relevance for the client and high SEO potential.
Step 1 — Analysis of Competitors' Traffic 
The first step that the agency took to help Edelweiss find compelling topics for their blog was to look at what their competitors' were writing about and the traffic their blog posts received. 
Competitor research is often a good place to start, because you can gain insights into what's already working well with similar audiences. You can find some ideas to adapt to your own blog and look for new opportunities that could help you stand out. 
As a starting point, the bakery provided a list of several competitors, and the agency identified a few more using Semrush's Organic Research tool. 
There are several ways to look at competitors with strong blogs, including:
Visually checking the presence of a link to a section on the site pages that links to a blog. In many cases, the link is in the footer or in the header of the site.
View traffic pages using traffic analyzer tools. 
To see which site pages on a competitors' website were bringing in the most traffic, the agency entered in their domain name and viewed the "Top Pages" tab within the Organic Research tool.
At this stage, though, the agency ran into a roadblock. None of the site's competitors had a blog. As this put a standstill to the competitor research stage of their blog post analysis, the agency moved on to the next stage: Brainstorming. 
Step 2 — Brainstorming
In order to find and narrow down a list of potential blog post topics, the agency started by searching for the seed keyword that best defines the client's business — "baking bread." 
"Seed keywords" (also sometimes called "marker keywords" or "marker queries") are simple primary keywords that represent a general topic and that can branch off into long-tail keywords. 
From their years of helping other companies, the agency knew that informational traffic that is unrelated to buying intent rarely converts visitors into buyers. People who were searching for "the history of bread baking," for example, are typically more interested in learning about educational facts instead of looking for products to purchase. 
While in a discussion, the agency considered that recipes for bread might be a strong choice, and decided to put this particular topic on pause and return to it later when additional research would be conducted.
The next idea they discussed was the seed keyword "sandwich recipe." This seed keyword was chosen as the main marker keyword for two reasons:
Edelweiss bakery makes bread 
There are a seemingly endless number of sandwiches you can create, which offers Edelweiss anabundance of blog post topics to write about 
Step 3 — Building a List of Topics
After brainstorming topic ideas with Edelweiss, the agency used the Keyword Magic tool to find a full list of keywords and potential topics. The Keyword Magic tool allows marketers to identify high-value keywords at scale, get new ideas for related topics, and see the overall big picture. This is invaluable when you're trying to develop strategic topics for your blog. 
All they did was enter the seed keyword "sandwich recipe" and voilà — a list of keywords that could be used for the bakery's blog topics appeared.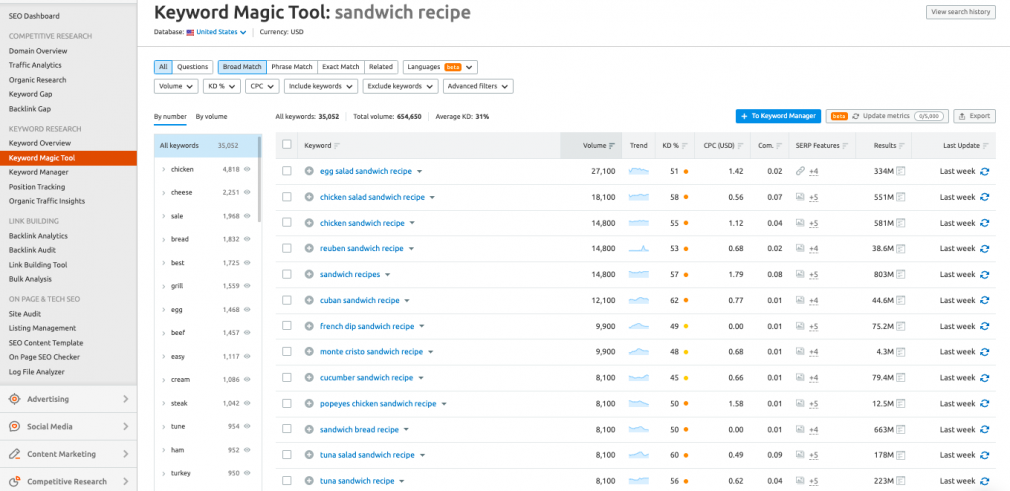 To select keywords that had high-value potential for the bakery's blog topics, the agency paid attention to these four indicators: 
Search intent of each keyword. Search intent alludes to the why behind a user's search for specific keywords. If someone looks for "bread recipe," for example, it can imply that they want to make their own bread and not buy it. 
Keyword volume. Keyword volume shows you how often the keyword is searched for per month. 
Keyword competitiveness. Keyword competitiveness can show you how many other people are trying to rank for that same keyword. Keywords with lower competitiveness scores tend to be easier to rank for.
Cost per click (CPC). CPC shows you how much competitors are paying (on average) per click in paid ads for these keywords. 
The first three indicators — search intent, volume, and competitiveness — were most important in the agency's analysis. The fourth indicator, however, was worth paying attention to as the bakery had a large number of topics they could potentially write about on their blog and it was important to prioritize. 
After assessing keywords for relevant search intent and high efficiency (strong volume but less competitive) the agency selected 42 different topics for the Edelweiss. 
Step 4 — Expanding the List 
In addition to identifying high-value keywords that the bakery could use to develop blog post topics from, the agency also used the Topic Research tool to expand their list of potential topics by getting new ideas and seeing what content may be popular with their audience. 
Once you've got a list of topics, you can see the subtopic and an associated top-ranking post. You can then sort the results by metrics like the number of social shares, the number of backlinks, or the total amount of Facebook engagement. After finding some relevant topics, the agency also looked at trending topics for the seed keyword "bread."
The trending topics report immediately allowed the agency to identify a few hot topic ideas, but the tool also showed a few unrelated topics. They found two additional topics that could be further explored that were likely relevant to the target audience: "How to store bread" and "Healthiest bread to eat." 
To research the potential of those different topics, the agency used the Keyword Overview tool to assess the potential monthly search volume.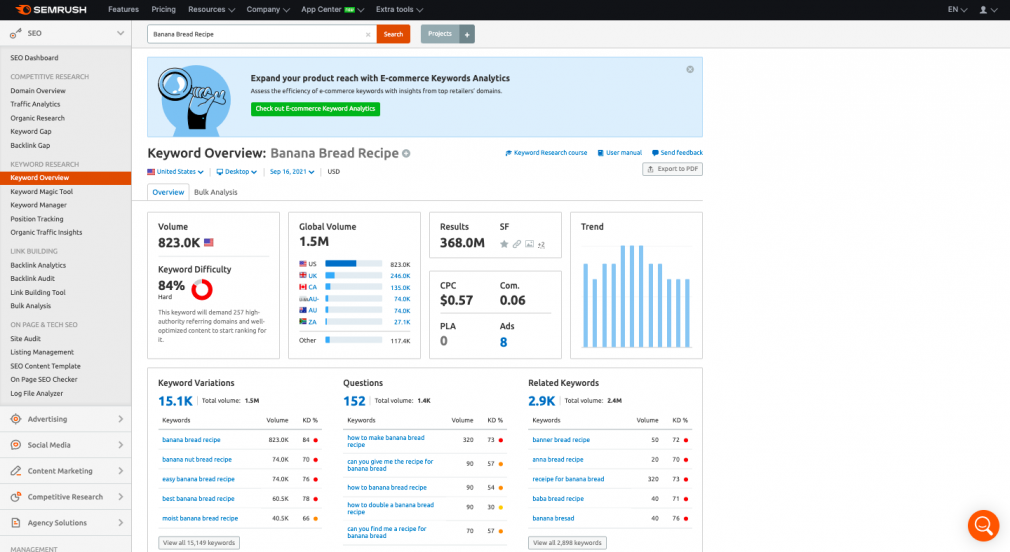 One of the most frequently searched topics found using Topic Research — "Banana Bread Recipe" with a search volume of 823k in the US. 
Step 5 — Client survey
To further expand the list of topics after brainstorming, the agency also requested a list of possible topics for the blog from the client. In many cases, clients have great ideas for content that could be valuable to their target audience — ideas that don't always show up in initial keyword research based on seed words or search intent.
The client's wishes about writing content about purely German dishes and traditions were also taken into account.
These were the additional topics, such as:
Why is sourdough bread healthy?
German Schnitzel sandwich recipe
Popular german sausages
etc.
These topic ideas from Edelweis also needed to be researched for their potential value, including search intent and keyword volume. All topics with a "history of" focus were eliminated. 
Step 6 — Finalizing the list of topics with the client
After narrowing down the list of ideas provided by the client and combining them with the list of topics selected in Step 3 and Step 4, the agency compiled a final list of 84 high-value topics for Edelweiss' blog. You can find the final list here.
When you're conducting your own topic generation, remember to keep your topic ideas and their associated keywords organized. You can add them either in an Excel document, or create a separate list in the Keyword Manager in Semrush itself. 
Next Up!
In the next episode, we're going to show you how the agency created a strategic content plan for the bakery, walking you through the process step-by-step. It's a post you definitely won't want to miss. 
Infographic. How to Find Blog Topics to Drive High-Intent Traffic
Denial of responsibility!
Search Engine Codex is an automatic aggregator of the all world's media. In each content, the hyperlink to the primary source is specified. All trademarks belong to their rightful owners, all materials to their authors. If you are the owner of the content and do not want us to publish your materials, please contact us by email –
[email protected]
. The content will be deleted within 24 hours.