Influencers and brands are always searching for the best ways to engage with their audience on social media. New content trends, new formats, and new social platforms are emerging all of the time, but there is one type of content that remains supreme: video.
Why Marketers Use Video Ads
Digital videos allow us to connect with audiences in a unique and personal way. It involves audiences much more than standard images, using sound, motion, and emotion to elicit a response. But not all videos will have the effect on their audience that we want them to. So how do we create videos that work? How do we use videos in ads to engage and drive action? 
Types of Video Ads on YouTube
Different ad types on YouTtube appear in different placements, so consider tailoring your content accordingly. YouTube's video ad types include: 
TrueView Ads
TrueView ads are the most common ad type on Youtube. They work best for brands that want to reach as many people as possible. 
When creating content for these ads, keep your message broad enough to match a few different video topics. TrueView ads have a minimum of 12 seconds and a maximum limit of 6 minutes. 
There are two main types of TrueView ads:
GIF
Image credit: thinkwithgoogle.com 
In-stream ads appear before the main YouTube video but can be skipped after a set amount of time. They're usually paired with a banner ad at the bottom of the video. These are the most common types of TrueView ads.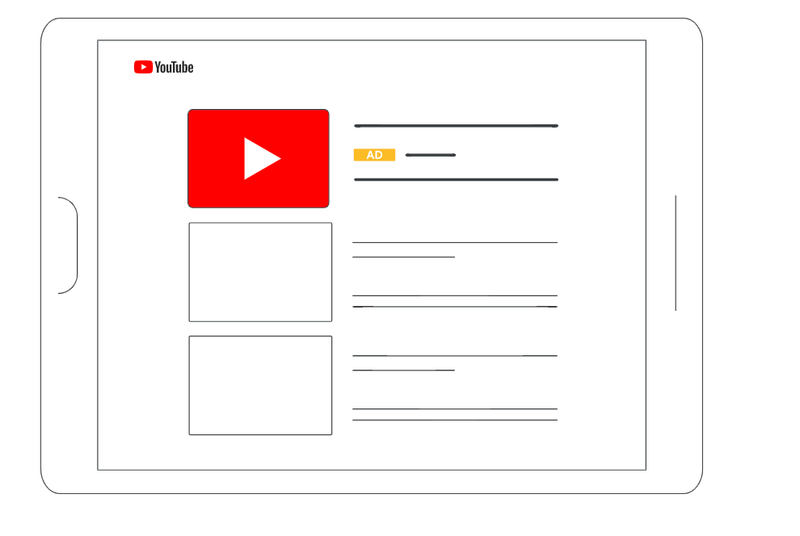 Discovery ads appear in Youtube's search results. This placement works best if your video and thumbnail are impactful and eye-catching. 
InStream Ads (Non-Skippable)
These ads are pretty similar to an in-stream TrueView ad, but viewers won't be able to skip them. You have a minimum of 6 seconds and a maximum of 15 seconds for this in-stream ad.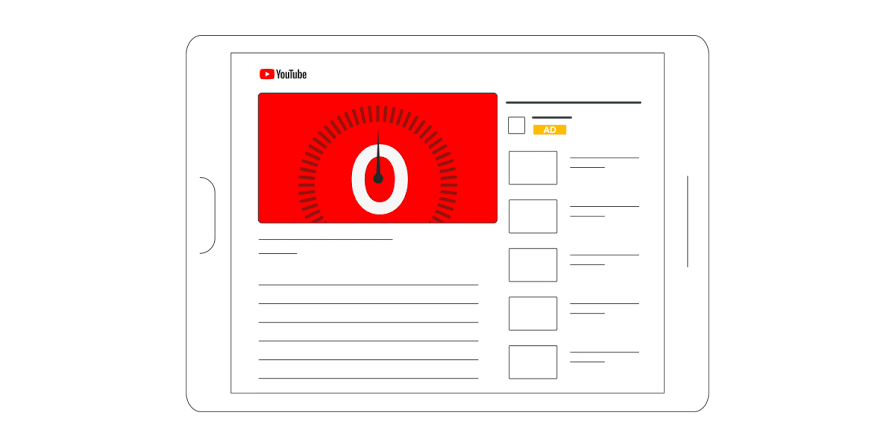 GIF
Image credit: thinkwithgoogle.com
The creative for these ads should clearly and quickly communicate your message. Even if the viewer watches your entire ad, they may disengage with your message long before it's over. Use copy and images that grab and hold attention.
Bumper instream ads
GIF
Image credit: thinkwithgoogle.com
Bumper ads are also non-skippable, but they're much shorter. They have a time limit of 6 seconds, giving you even less time to communicate your message. 
However, viewers are less likely to disengage from a bumper ad. Videos that are intriguing or quirky do better in this placement.
Overlay Ads
Overlay ads are banner ads that appear along the bottom of YouTube videos. They're meant to reach a relevant audience that is already engaging a topic similar to the ads. 
However, your audience might consider them intrusive, and they don't offer much space to convey your message.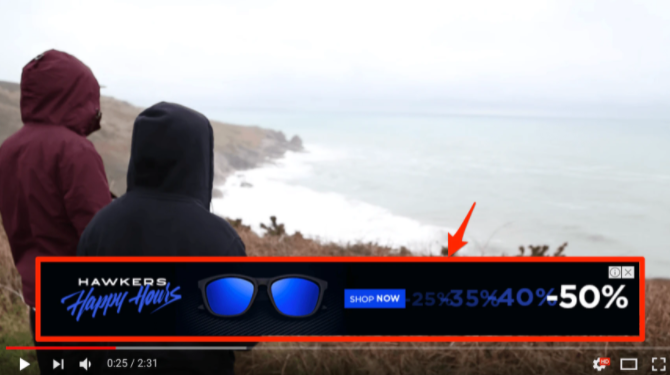 Carefully consider the primary message you want to send with your overlay ad and how you can communicate your message with a few images and copy.
Types of Video Ads on Facebook
Like YouTube, Facebook offers plenty of video placements to help you meet your business objectives. Video ads can appear in multiple placements across Facebook, Instagram, Audience Network, and Messenger.
Different placements allow for varied video lengths, though Facebook recommends that your ads are shorter than 15 seconds. You can upload your video ad or create one using Facebook's video creation tools.
Common types of Facebook ad placements include feed, in-stream, and Facebook Story ads. Use video ads on Facebook to promote your products or services, showcase your uniques selling proposition (USP), or tell your brand's story.
For a complete list of Facebook's video ad placements and their requirements, visit the official Facebook Business guide to video ads.
How to Upload a Video Ad to YouTube
You'll create, manage and track your video ads through the Google Ads platform, not YouTube. Once you have chosen which kind of ad type you want to run on YouTube, you'll need to upload it. 
To upload a video ad to YouTube via the Google Ads Manager:
Create or log in to your brand's YouTube account
Click the small camcorder icon on the top-right of YouTube:
Click Upload Video:


Select the file to upload and add all of the necessary information, including the title, description, and tags:

Create or log into your Google Ads account. Click "All Campaigns" in the left-hand sidebar:
Click the large blue "New Campaign" button:


Select Video for the campaign type:


Select a goal for the campaign objective.
Choose a name for the campaign.


Set a daily budget and delivery method.


Select a bidding strategy:


Choose the target audience:


Decide which type of ad to run.
Input keywords to target.
Configure the ad's CTAs, URLs, and headlines.
Click Save.
Click continue to campaign.
How to Upload a Video Ad to Facebook
Open the Facebook Ads Manager.
Click "+Create."
Choose an objective that supports video, then click Continue.
Enter your campaign budget optimization information, if applicable. Click Next.
Choose your budget, audience, placements, and optimization, then click Next.
In the Format section, click Carousel or Single Image or Video. If your objective is Video Views, your only format option is Single Video. To use the carousel format, choose a different objective.
Upload your video.

 If your format is Single Image or Video: Click Add Media, click Add Video, and select your video from your library. If you want to upload a new video, click Upload.
If you want to create a video with your images, go to the Ad Creative section and click Create Video.
If your format is Carousel: Scroll to the Ad Creative section and click the Add Media dropdown. Click Add Video and then click the carousel card you just created. 

Add your text, links, and tracking. Click Publish to run your video ad.
Video Ads Best Practices
1. Mobile-First
The Internet is quickly adopting a mobile-first mentality, which means brands should aim to provide a seamless experience for everyone regardless of screen size or connection speed. 
According to Google, 75% of adults  watch YouTube from their mobile devices. When creating your video ads, ensure that it translates your message clearly, whether on mobile or desktop.
2. Show, Don't Tell
With video ads, you'll need to get your message across quickly. Think outside of the box when it comes to conveying multiple types of information in your ads. Use your ad's audio and visuals to highlight the ad's most essential elements.
For example, don't tell an audience about the benefits of your product; show them. Show someone completing their to-do list after drinking your coffee, or show a user speeding through their grocery trip with your new shopping app. 
3. Cross-Platform Use
It's common for users to share engaging videos they see on Facebook or YouTube with others, not on the platform. Ensure users can share your video content across multiple social media platforms to boost user experience and increase your reach. 
However, it's worth remembering that sometimes you will need to tailor your content to a specific platform's demographic. Cross-platform content won't work for every campaign. 
Tracking Your Video Ads
It's essential to monitor your ad's performance to ensure people are engaging with it. Platforms like Facebook offer additional tracking details for ads created and run through their ad management system.
You can add UTMs to your video posts with the Social Media Poster's UTM Builder for all other platforms. The Builder allows you to add UTM parameters to your links, such as campaign name, campaign medium, and campaign source: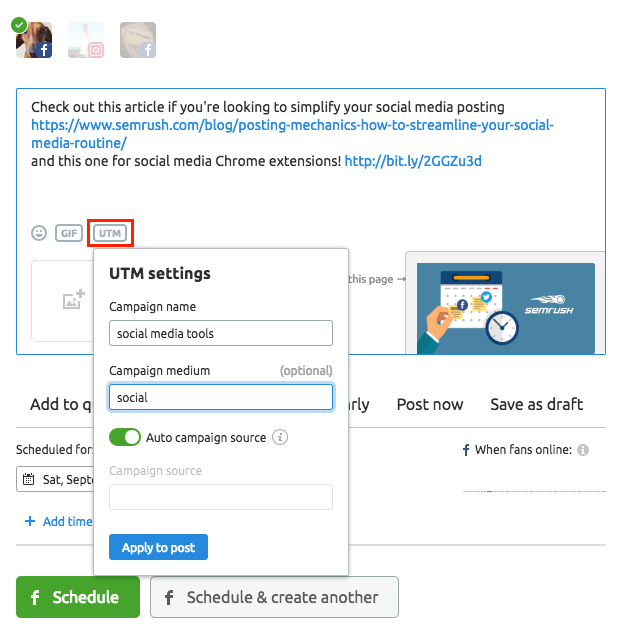 By adding UTMs to your sponsored posts, you'll be able to use Google Analytics to track the traffic that comes to your website, specifically from your social media campaigns. 
You can also use the Social Media Ads tool to track your Facebook campaigns. The Social Media Ads tool helps you create and manage your ad campaigns, and optimize your low-performing ads.
Grab your Facebook campaign data at-a-glance from the tool's dashboard, including your impressions, and reach:

Click on your campaigns to see each campaign's ads and their stats. Keep an eye on your impressions, reach, and clicks—these numbers can tell you how many people engage with your ad once they spot them: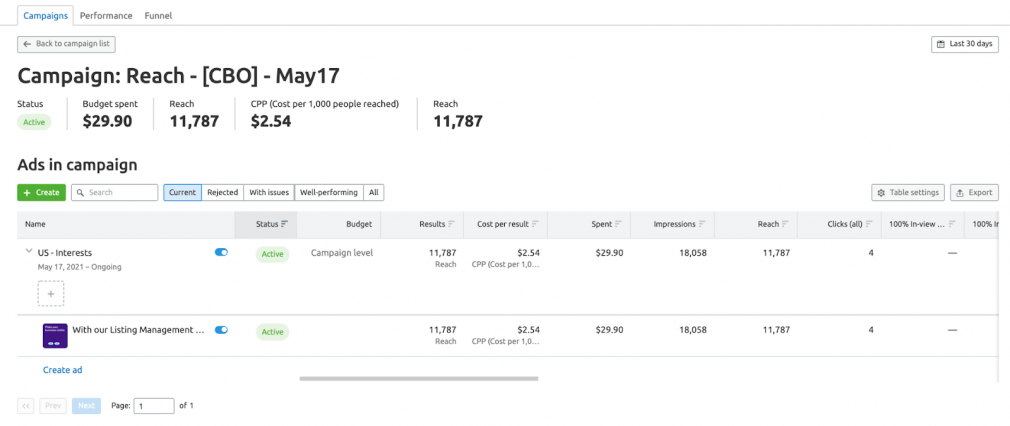 Key Takeaways
Videos are one of the most popular ways to consume content online for both consumers and brands. They give us the chance to communicate quickly and effectively and can help to drive real action if done right. 
Pay special attention to each platforms video ad placements and requirements when creating your video ads.
Track your video posts' performances with third-party tools to ensure viewers engage with your content.
Create & Manage Ad Campaigns
with the Social Media Ad Manager
Denial of responsibility!
Search Engine Codex is an automatic aggregator of the all world's media. In each content, the hyperlink to the primary source is specified. All trademarks belong to their rightful owners, all materials to their authors. If you are the owner of the content and do not want us to publish your materials, please contact us by email –
[email protected]
. The content will be deleted within 24 hours.